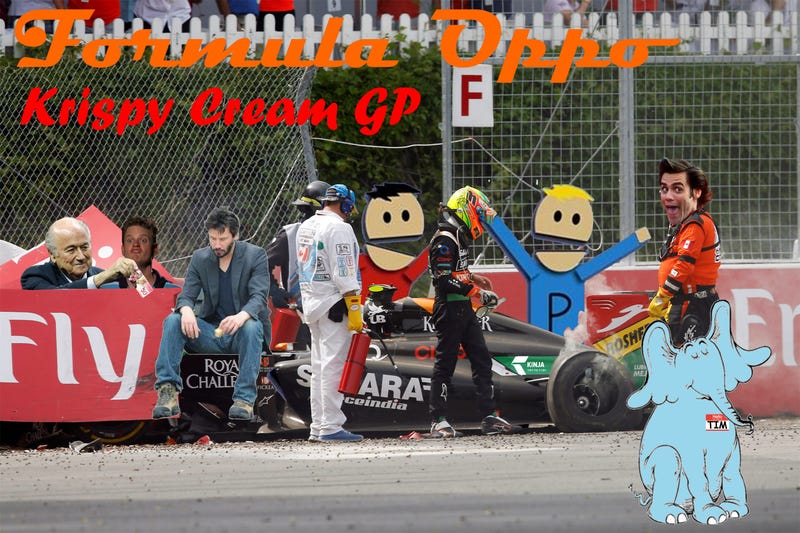 Welcome to the 7th round of Oppositelock,jalopnik.kinja.com's only fantasy formula one game, Formula Oppo! This week we scrub off our messy divorce from Jalopnik and head north to snag some poutine, cheap boner pills and hit on those sexy French-Canadian fifteen year old imported cars. I guess we could also chug some syrup and drink some shitty Molson and wonder what we did wrong in our lives....
In the prior round, Lewis had a comfortable lead before becoming comfortably numbnutted and fucked up his race by pitting and giving Nico his second win of the year. Vettel also profiteered off of this boner and grabbed second. Other things happened like McLaren scoring their first points of the year, and thanks to Button's performance I might not have to buy a Manor T-Shirt. Yes, thanks to the comedy of errors that is Monte Carlo this season might not be the Hamilton domination that many have predicted.
This brings us onto the race in the communist colony. Will Nico's lighting strike three times? Is Hamilton banging a Kardashian? Is it Bruce Jenner? Can Kimi re-learn how to racecar and get a good qualifying? Will the glory hole in the wall of champions be visited? Can Mercedes brakes hold up? Will Williams find their groove back? Will Wynona's big brown beaver make an appearance? Is McLaren back in the points? How much wood could a woodchuck chuck if a woodchuck could chuck money at the strippers?
Your drivers:
Lewis Hamilton- Mercedes

Nico Rosberg- Mercedes
Daniel Ricciardo- Red Bull
Daniil Kvyat- Red Bull
Felipe Massa- Williams
Valtteri Bottas- Williams
Sebastian Vettel- Ferrari
Kimi Raikkonen- Ferrai
Kevin Magnussen Fernando Alonso- McLaren
Jenson Button- McLaren
Nico Hulkenberg- Force India
Sergio Perez- Force India
The Wee Baby Max Verstappen- Torro Rosso
Carlos Sainz, Jr.- Torro Rosso
Pastor Maldonado- Lotus
Romain Grosjean- Lotus
Felipe Nasr- Sauber
Marcus Ericsson- Sauber
Will Stevens- Manor
Roberto Merhi- Manor
My picks?

Q. Lewis Hamilton
1. Lewis Hamilton
2. Nico Rosberg
3. Kimi Raikkonen
Curse: No curse of the Toronto Maple Leaves
The rest of you have until Q1 to make your picks, or Mr. Lahey's gonna kick you out of the trailer park again.
Cory! Trevor! Smokes.