Welcome back to Formula Oppo, the often ill advised fantasy game of choice for the open wheeled fans. This week is the last week for anyone new that hasn't gotten in on the action. This is also the week we start cutting those not participating, so, what is it exactly that you do here?
Previously on Formula Oppo, this happened. Kimi shattered the lap record during qualifying and led the race until the pit stop. Kimi was unfortunately called in first giving Sebastian clean air to put down some hot laps and build a lead. Which being Monaco, was basically the end of the race. Daniel Ricciardo managed to get by Bottas on the pit rotation, eliminating Mercedes from the podium. Lewis meanwhile shit-talked Indy Car and finished 7th while starting from near the back. Haas managed a double points finish while all three McLaren's retired 4,554 miles away from each other.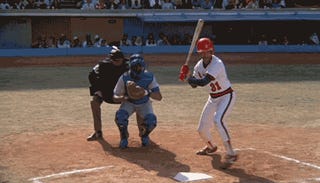 This week we head to North Detroit for some racing on a track with not much more runoff area. Crashes are to be expected. I'm going to keep it short here. Typically this is where you would see the second round of performance improvements for the teams, but Honda and Renault might not be ready to roll them out.
Your Drivers:
Lewis Hamilton- Mercedes
Valtteri Bottas- Mercedes
Daniel Ricciardo- Red Bull
Max Verstappen- Red Bull
Sebastian Vettel- Ferrari
Kimi Raikkonen- Ferrari
Sergio Perez- Force India
Esteban Ocon- Force India
Felipe Massa- Williams
Lance Stroll- Williams
Fernando Alonso Jenson Button- McLaren
Stoffel Vandoorne- McLaren
Daniil Kvyat- Toro Rosso
Carlos Sainz Jr- Toro Rosso
Romain Grosjean- Haas
Kevin Magnussen- Haas
Nico Hulkenberg- Renault
Jolyon Palmer- Renault
Marcus Ericsson- Sauber
Pascal Wehrlein Antonio Giovinazzi- Sauber
My picks:
Q. Lewis Hamilton
1. Valtteri Bottas
2. Sebastian Vettel

3. Lewis Hamilton
Curse: None
For the rest of you, you have until Q1 to make your picks or they will not count! Good luck!