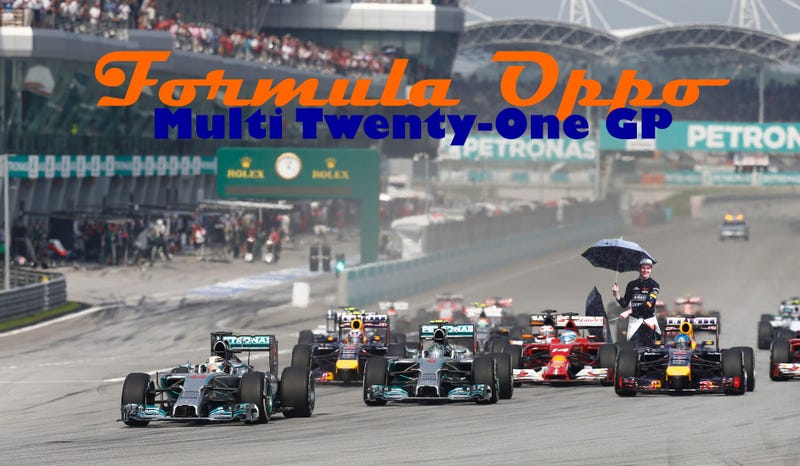 Welcome to this week's edition of Formula Oppo, where the number of former participants now drastically outnumbers the active ones! This week we head to the exotic local of Sanortep, just don't say it backwards...
Last time out, this happened. Nico led from start to finish, and what a finish it was. Had there been just one more lap, Riciardo might have gotten the better of him. Hamilton was left in third questioning the team's stratego. Kimi found 4th with Vettel starting at the bottom and finishing 5th. Nico Hulkensmash's race ended quickly after the start.
This time it's off to another hot country known for it's rain. Should be fun for all 13 of you still playing...
Your drivers this race:
Mercedes:
Lewis Hamilton
Nico Rosberg
Ferrari:
Sebastian Vettel
Kimi Raikkonen
Red Bull TAG-Heuer:
Daniel Ricciardo
Daniil Kvyat Max Verstappen
Williams:
Valtteri Bottas
Felipe Massa
McLaren-Honda:
Fernando Alonso Stoffel Vandoorne
Jenson Button
Force India:
Nico Hulkenberg
Sergio Perez
Toro Rosso:
Max Verstappen Daniil Kvyat
Carlos Sainz
Renault:
Kevin Magnussen
Jolyon Palmer
Sauber:
Marcus Ericsson
Felipe Nasr
Manor:
Pascal Wehrlein
Rio Hartyanto Esteban Ocon

Haas:
Romain Grosjean
Esteban Gutierrez
My picks:
Q: Lewis Hamilton
1. Lewis Hamilton
2. Nico Rosberg
3. Daniel Ricciardo
Curse: No curse.
The rest of you have until Q1 to get your picks in.
Good luck.