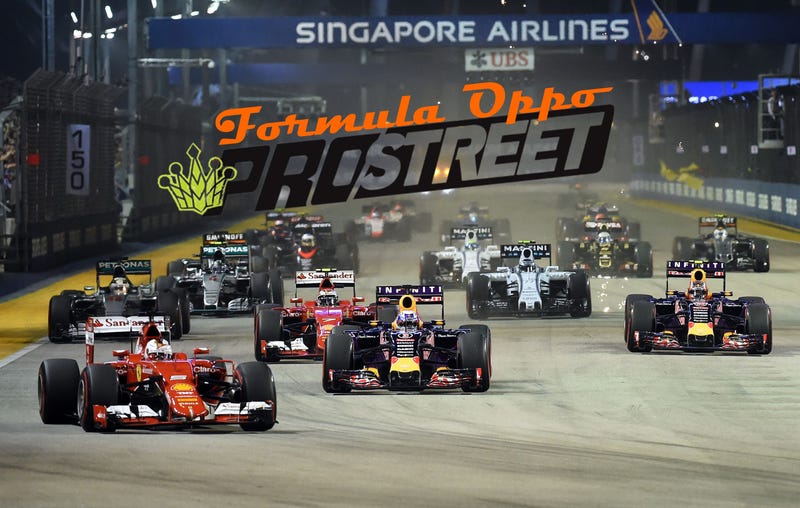 Welcome back to Formula Oppo, Oppositelock's very own Formula One fantasy game. It's your weekly vacation from your shitty fantasy football league. This week we head back down to the docks for some street circuit racing, are you ready?
Last time, this happened. Lewis Hamilton flubbed the start and lost the race right off the bat. Nico Rosberg ran away with the race, because of course he did. Vettel finished third in a disappointing race for Ferrari. Everything else was fast, yet boring. There's always next year...
But first we must finish this season and this week we head to a high humidity zone, so watch out for those Takata airbags. The hot temperatures, high humidity and local electronics tend to reek havoc on the cars as well as the drivers. This is also a night race on a tight track known for its safety car deployments, so expect the unexpected.
Your drivers this race:
Mercedes:
Lewis Hamilton
Nico Rosberg
Ferrari:
Sebastian Vettel
Kimi Raikkonen
Red Bull TAG-Heuer:
Daniel Ricciardo
Daniil Kvyat Max Verstappen
Williams:
Valtteri Bottas
Felipe Massa
McLaren-Honda:
Fernando Alonso Stoffel Vandoorne
Jenson Button
Force India:
Nico Hulkenberg
Sergio Perez
Toro Rosso:
Max Verstappen Daniil Kvyat
Carlos Sainz
Renault:
Kevin Magnussen
Jolyon Palmer
Sauber:
Marcus Ericsson
Felipe Nasr
Manor:
Pascal Wehrlein
Rio Hartyanto Esteban Ocon

Haas:
Romain Grosjean
Esteban Gutierrez
My picks:
Q: Lewis Hamilton
1. Lewis Hamilton
2. Nico Rosberg
3. Daniel Ricciardo
Curse: No curse.
The rest of you have until Q1 to get your picks in.
Good luck.