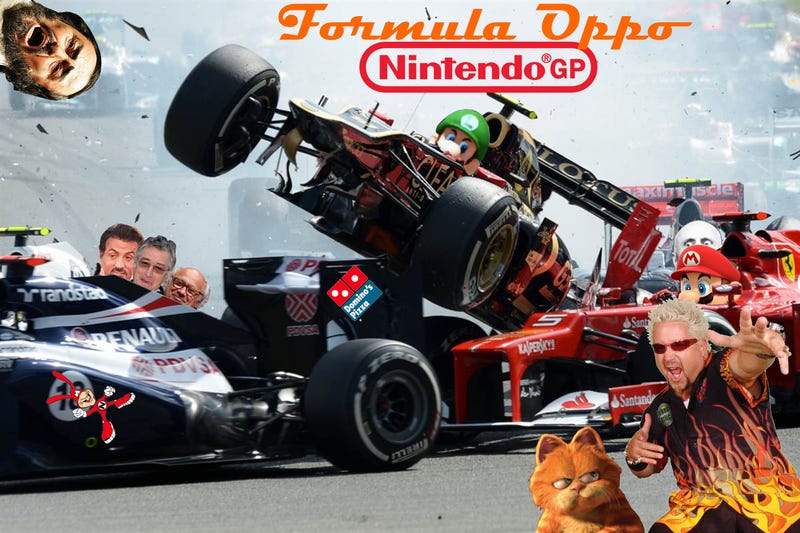 Hey, you! You there; scrolling down on your fancy smart phone or you iApple computer or whatever you damn utes call your gizmos and whatchamacallits. Want to join in on the 13th round of the Formula 1 racquets that we have going on over heres? We calls it Formula Oppo, if ya in.
Last time out, this Papa-Johns-eating-motherfucker right here won his third race of this season. Yeah, this Italian stallion won another race. Why? Because Nico shanked ol' Lewis's tire on the second lap, putting Hamilton's car to bed a little early if'n ya know what I mean...
This here track is a fast one, like the fast one of tha muthafuggin year. Hamilton might be looking to even out the score this race, and is definitely lookin for tha win. Rosberg's gotta prove this race that he's the number 1 boy out there. Vettel's getting a new chassis for this race. Everybody's running their low downforce, high speed aero. Ferrari's gotta little bit of a home field advantage here. Meanwhile Captain Crest up there has become a contender for the championship bout. What do you mean I'm funny? What do you mean, you mean the way I talk? What? Funny how? What's funny about it? Oh, oh, Anthony. He's a big boy, he knows what he said. What did ya say? Funny how? What? No, no, I don't know, you said it. How do I know? You said I'm funny. How the fuck am I funny, what the fuck is so funny about me? Tell me, tell me what's funny! You mean, let me understand this cause, ya know maybe it's me, I'm a little fucked up maybe, but I'm funny how, I mean funny like I'm a clown, I amuse you? I make you laugh, I'm here to fuckin' amuse you? What do you mean funny, funny how? How am I funny? Ya motherfucker! I almost had him, I almost had him. Ya stuttering prick ya. Frankie, was he shaking? I wonder about you sometimes, Henry. You may fold under questioning.
Anyways, here are your fugging drivers for the fucking race, ya motherfucker:
Sebastian Vettel- Red Bull
Daniel Ricciardo- Red Bull
Max Chilton Alexander Rossi- Marussia
Jules Bianchi- Marussia
Nico Rosberg- Mercedes
Lewis Hamilton- Mercedes
Kimi Räikkönen- Ferrari
Fernando Alonso- Ferrari
Romain Grosjean- Lotus
Pastor Maldonado- Lotus
Marcus Ericsson- Caterham
Kamui Kobayashi or Andre Lotterer Mystery Guest- Caterham
Sergio Perez- Force India
Nico Hulkenberg- Force India
Felipe Massa- Williams
Valtteri Bottas- Williams
Kevin Magnussen- McLaren
Jenson Button- McLaren
Esteban Gutierrez- Sauber
Adrian Sutil- Sauber
Jean-Eric Vergne- Toro Rosso
Daniil Kvyat- Toro Rosso
Who am I picking? Wouldn't you like to know.
1. Lewis Hamilton
2. Nico Rosberg
3. Valtreri Bottas
Q. Lewis Hamilton
Curse: Fogetaboutit
You have until Q1, (Saturday 6th at 8:00 am est) to make your picks or else you get to try on some new shoes. Shoes made from concrete, that is.
Buona fortuna.