Welcome one and all to the 8th round of Formula Oppo, where you have a better chance of making the podium than an LMP1 car. This week we head on back to Europe for some more racing on yet another street circuit, yay!
Previously on Formula Oppo, this happened. Hamilton nabbed the pole and and ran away with the race. Bottas had a reasonably quite 2nd. Ricciardo fended off two Force Indias and a hard charging Sebastian Vettel to steal away third. The rest of the race had some interesting outcomes such as Lance Stroll finally finishing a race and it was in the points at his home race.
This week we head to "Europe" for a race of tight corners and oil money. Hey, at least there aren't LMP2 cars crashing into folks out there...
Your Drivers:
Lewis Hamilton- Mercedes
Valtteri Bottas- Mercedes
Daniel Ricciardo- Red Bull
Max Verstappen- Red Bull
Sebastian Vettel- Ferrari
Kimi Raikkonen- Ferrari
Sergio Perez- Force India
Esteban Ocon- Force India
Felipe Massa- Williams
Lance Stroll- Williams
Fernando Alonso Jenson Button- McLaren
Stoffel Vandoorne- McLaren
Daniil Kvyat- Toro Rosso
Carlos Sainz Jr- Toro Rosso
Romain Grosjean- Haas
Kevin Magnussen- Haas
Nico Hulkenberg- Renault
Jolyon Palmer- Renault
Marcus Ericsson- Sauber
Pascal Wehrlein Antonio Giovinazzi- Sauber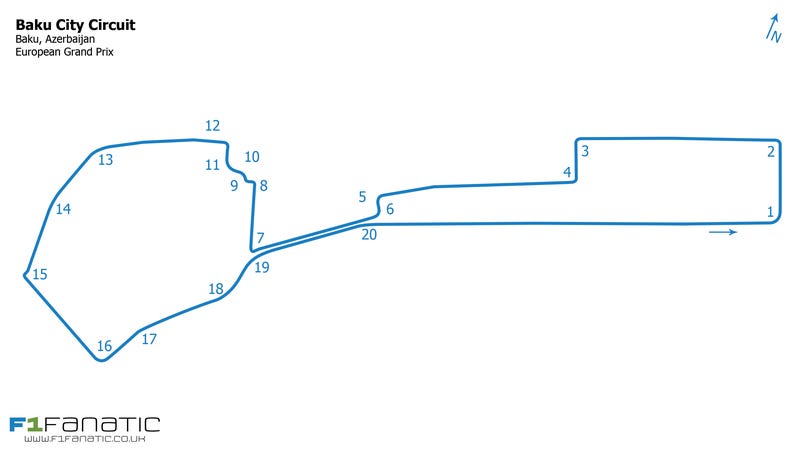 My picks:
Q. Lewis Hamilton
1. Lewis Hamilton
2. Valtteri Bottas

3. Sebastian Vettel
Curse: None
For the rest of you, you have until Q1 to make your picks or they will not count! Good luck!