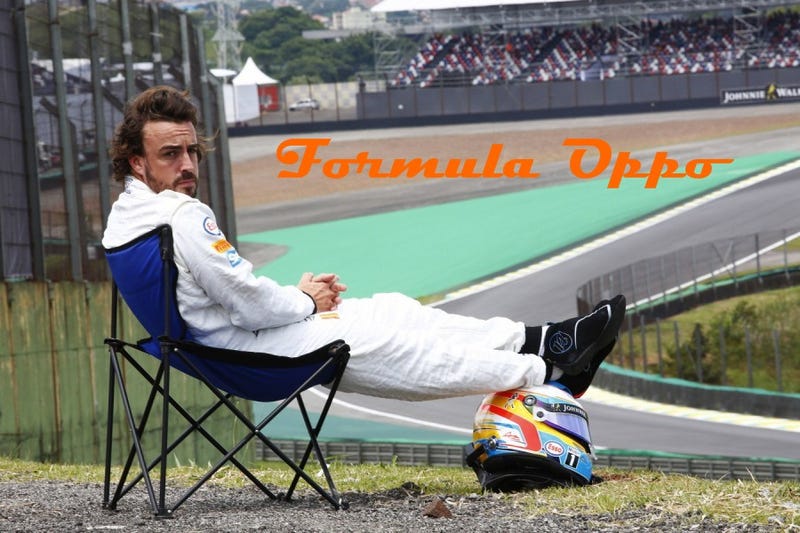 Welcome to your weekend retreat from the horrible reality that is you life. This.... is Formula Oppo.
Previously on Formula Oppo, this happened. 2 of you fuckers got perfect scores. Great job! With only two rounds left, our scoring is in the same situation as the Mercedes boys. So, this could go down to the wire...
Your drivers this race:
Mercedes:
Lewis Hamilton
Nico Rosberg
Ferrari:
Sebastian Vettel
Kimi Raikkonen
Red Bull TAG-Heuer:
Daniel Ricciardo
Daniil Kvyat Max Verstappen
Williams:
Valtteri Bottas
Felipe Massa
McLaren-Honda:
Fernando Alonso Stoffel Vandoorne
Jenson Button
Force India:
Nico Hulkenberg
Sergio Perez
Toro Rosso:
Max Verstappen Daniil Kvyat
Carlos Sainz
Renault:
Kevin Magnussen
Jolyon Palmer
Sauber:
Marcus Ericsson
Felipe Nasr
Manor:
Pascal Wehrlein
Rio Hartyanto Esteban Ocon

Haas:
Romain Grosjean
Esteban Gutierrez
Q: Lewis Hamilton
1. Lewis Hamilton
2. Nico Rosberg
3. Daniel Ricciardo
Curse: No curse.
The rest of you know the drill. Good night and Good luck.