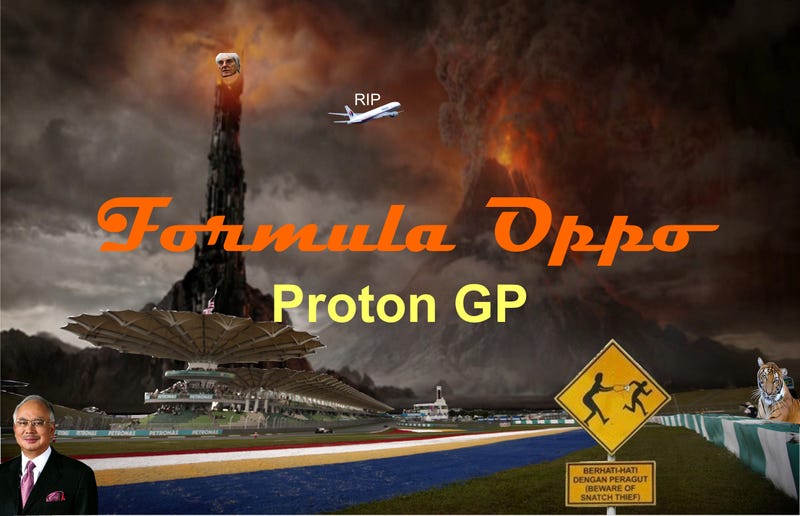 Yes, the second round of the Formula Oppo Season is upon us. With the Foster's GP providing and exciting race and some unpredictable results that some predicted, points were scored. This weeks racing should throw yet another wrench at the monkey, as rain is always a factor at Skull Island.
So, will there be more cars getting Kinja'd by mechanical and electrical issues? Will Red Bull be cheating bastards again? Who are the mudders on the grid? Can the young guns of Magnussen and Bottas have repeat stellar performances? Will Max "The Wallet" Chilton continue to beat Vettel and Hamilton?
Here are the drivers:
Sebastian Vettel- Red Bull
Daniel Ricciardo- Red Bull
Max Chilton- Marussia
Jules Bianchi- Marussia
Nico Rosberg- Mercedes
Lewis Hamilton- Mercedes
Kimi Räikkönen- Ferrari
Fernando Alonso- Ferrari
Romain Grosjean- Lotus
Pastor Maldonado- Lotus
Marcus Ericsson- Caterham
Kamui Kobayashi- Caterham
Sergio Perez- Force India
Nico Hulkenberg- Force India
Felipe Massa- Williams
Valtteri Bottas- Williams
Kevin Magnussen- McLaren
Jenson Button- McLaren
Esteban Gutierrez- Sauber
Adrian Sutil- Sauber
Jean-Eric Vergne- Toro Rosso
Daniil Kvyat- Toro Rosso
Here are my picks for the race:
1. Kevin Magnussen
2. Valtteri Bottas
3. Jenson Button
Q. Nico Rosberg
Curse: No Curse
Once again, your picks are locked in once you submit them. You have until Q1 (04:00 Saturday the 29th) to make them. Here are the rules if you still have no idea what is going on.
God speed and may the force be with you.