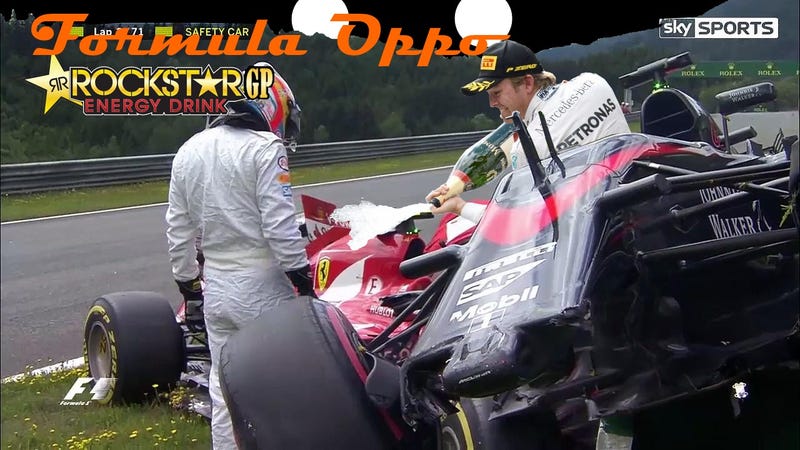 Welcome to the 9th round of Formula Oppo, the last remaining fantasy F1 guessing game where the prize is a paper trophy. This week we escape the Asian continent and head for the Texas of Germany.
Previously on Formula Oppo, this happened. While Le Mans came down to the last lap for the overall win, Nico pulled out a large lead and never looked back, Sebastian Vettel had to settle for second while Sergio overtook Kimi for third. Hamilton had a shit race because his engineers couldn't help him with computer glitches. Cars broke down, but there was no safety car.

This week is back to a real race track that's actually in Europe. The Brexit could make things difficult for all of the British race teams to transport their cars, equipment, and people through out the Eurozone. This might be disastrous for the smaller teams of Force India and Manor. This could be an interesting week.
Your drivers this race:
Mercedes:
Lewis Hamilton
Nico Rosberg
Ferrari:
Sebastian Vettel
Kimi Raikkonen
Red Bull TAG-Heuer:
Daniel Ricciardo
Daniil Kvyat Max Verstappen
Williams:
Valtteri Bottas
Felipe Massa
McLaren-Honda:
Fernando Alonso Stoffel Vandoorne
Jenson Button
Force India:
Nico Hulkenberg
Sergio Perez
Toro Rosso:
Max Verstappen Daniil Kvyat
Carlos Sainz
Renault:
Kevin Magnussen
Jolyon Palmer
Sauber:
Marcus Ericsson
Felipe Nasr
Manor:
Pascal Wehrlein
Rio Hartyanto

Haas:
Romain Grosjean
Esteban Gutierrez
My picks for this round?
Q: Sebastian Vettel
1. Sebastian Vettel
2. Nico Rosberg
3. Kimi Raikkonen
Curse: Daniil Kvyat
The rest of y'all have until Q1 to get yer picks in. Good luck