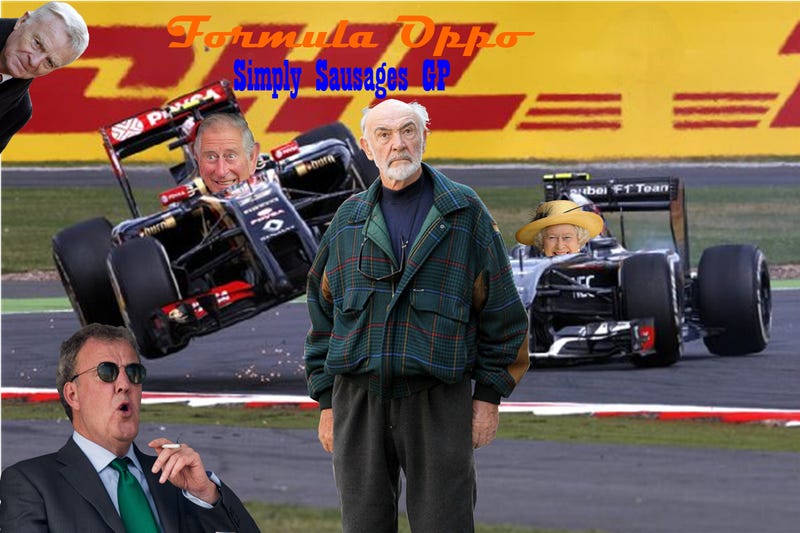 Welcome to the 9th round of the internet's only Formula One fantasy picking game that is officially only existing on Oppositelock.kinja.com, or as it's colloquially known as Formula Oppo! This week we travel to that off shore oil platform that's not officially recognized as Sealand, which is not to be confused with those fuckers over at Sea World. Sealand Stronk!
Last time out Nico pipped Lewis on the start and Felipe snuck by Sebastian during a botched pit stop and held out for third. Kimi's Ferrari snapoversteered as Fernado collected him into the wall. Scores more retired, but not Pastor Maldonado. No Pastor Maldonado and his gigantic (and possibly cancerous) testicles (seriously, brah, might want to get those things checked out if they're that large) managed to hold it together and score points.
This week promises to be even more exciting, because er'body in da club gettin upgrades fo Sealand. Williams was fucking with the rest of the teams by running testing only illegal winglets, but what did they upgrade? Force India finally introduced their actual 2015 car complete with old school McLaren nostrils, but are they actually legal? Ferrari did some things, will they find their mojo again? McLaren is in desperate need of a reliable powertrain, will they finally get it? Can the Red Bulls find another set of Renault Twingo's to get some motors? Will Sealand ever be recognized as a sovereign nation?
Your drivers:
Lewis Hamilton- Mercedes

Nico Rosberg- Mercedes
Daniel Ricciardo- Red Bull
Daniil Kvyat- Red Bull
Felipe Massa- Williams
Valtteri Bottas- Williams
Sebastian Vettel- Ferrari
Kimi Raikkonen- Ferrai
Kevin Magnussen Fernando Alonso- McLaren
Jenson Button- McLaren
Nico Hulkenberg- Force India
Sergio Perez- Force India
The Wee Baby Max Verstappen- Torro Rosso
Carlos Sainz, Jr.- Torro Rosso
Pastor Maldonado- Lotus
Romain Grosjean- Lotus
Felipe Nasr- Sauber
Marcus Ericsson- Sauber
Will Stevens- Manor
Roberto Merhi- Manor
My Picks:
Q: Lewis Hamilton
1. Lewis Hamilton
2. Nico Rosberg
3. Valtteri Bottas
Curse: No curse of Black Pearl for me this week.
Now the rest of you have until Q1 to get your picks in or else they be thrown off the platform.
Good luck!