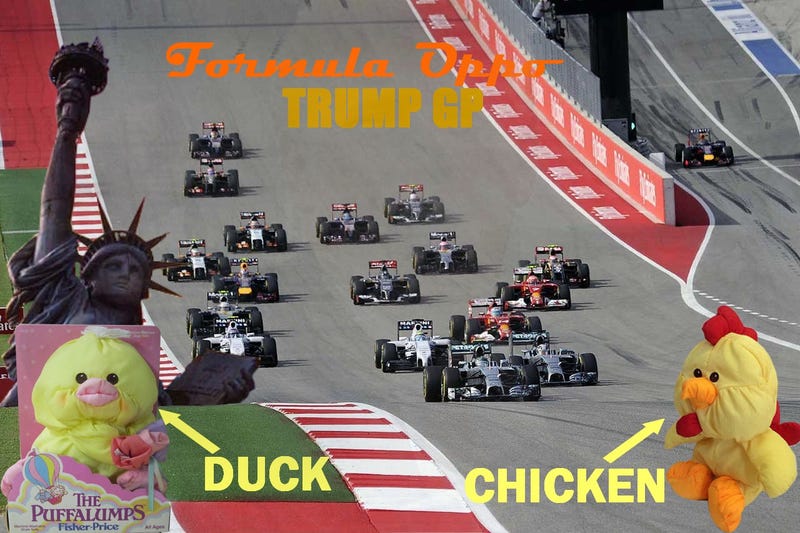 Welcome to the 16th round of Formula Oppo, Oppositelock's premier and bestest weekly fantasy racing game. In fact, every other fantasy sport is stupid, dumb, garbage where only losers go to play. Suck my dick Draft Kings and Fan Duel, suck it long and suck it hard, 'cause, you're fired.
Previously on Formula Oppo, this pansy ass bitch handed off a trophy to the champion of the race and probably this season. But unlike Trump has a small and in check ego. Rosberg retired. Vettel nabbed second and Checo got third. Kimi collided with Bottas, taking the last podium spot away from both and handing the championship to Mercedes.
This week, we return to the greatest country on earth, 'Murica. Hamilton will probably coast his way to his third championship. Rosberg will continue to be the bridesmaid. Vettel will have a good drive, but that's about it. Or none of this will happen and the sole American in the race Alexander Rossi will take his home race and win in a Cinderella story. Who knows? It's Formula Oppo, Bitches.
Your drivers:
Lewis Hamilton- Mercedes
Nico Rosberg- Mercedes
Daniel Ricciardo- Red Bull
Daniil Kvyat- Red Bull
Felipe Massa- Williams
Valtteri Bottas- Williams
Sebastian Vettel- Ferrari
Kimi Raikkonen- Ferrai
Kevin Magnussen Fernando Alonso- McLaren
Jenson Button- McLaren
Nico Hulkenberg- Force India
Sergio Perez- Force India
The Wee Baby Max Verstappen- Torro Rosso
Carlos Sainz, Jr.- Torro Rosso
Pastor Maldonado- Lotus
Romain Grosjean- Lotus
Felipe Nasr- Sauber
Marcus Ericsson- Sauber
Will Stevens- Manor
Alexander Rossi Roberto Merhi- Manor
My picks:
Q. Lewis Hamilton
1. Lewis Hamilton
2. Sebastian Vettel
3. Nico Rosberg
Curse: No curse of the 2016 presidential election
Good luck.