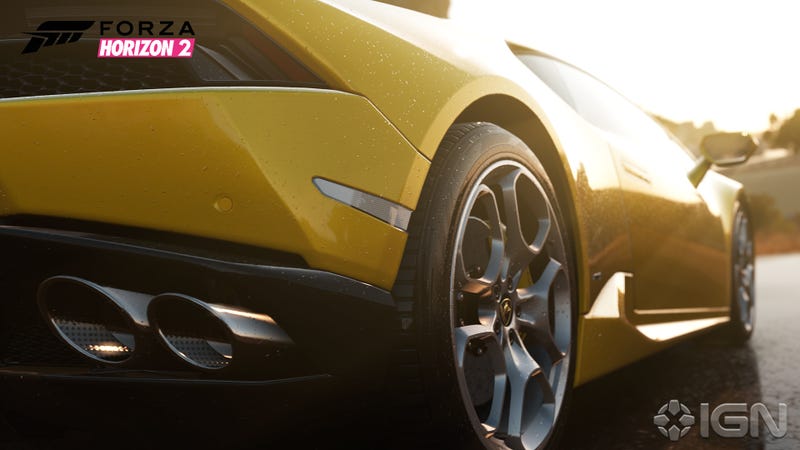 The warm Italian sun overhead bakes the bright yellow bodywork of the Huracán as a quintet of aerobatic jets streaks above the assembled grid, belching fingers of green, white, and red smoke behind them – the iconic tints of il Tricolore.
Let There Be Light
We believe next gen beauty isn't about poly counts," says Fulton. "It's not about texture resolution. Those are last-gen concepts. Next-gen beauty is about light.

We wanted to model it as accurately as possible and have all that stuff work with the physically based set-up that we've got from Forza 5.
Where We're Going We Don't Need Roads
[...] Playground wants to take that further, so the team has torn down the barriers that largely kept us from leaving the road in the original Forza Horizon. It's this new philosophy that had us bouncing across a field in the race we described in the intro. Even from this single event it's clear to us how dramatic a shift for the better this is compared to the original Horizon.

So that means that not only is the world of Forza Horizon 2 bigger than the one in Horizon, it also has three times more driveable area; a three-times bigger play space.
The Spirit of PGR Lives On
What we've tried to do throughout the game, this is solo, this is online, is make sure that you can be as rewarded just for driving in a cool fashion, driving stylishly, as for coming first.

Not only will chaining Skills now earn you XP and contribute to your progression, but the Skills system is also linked to the new Perk system.