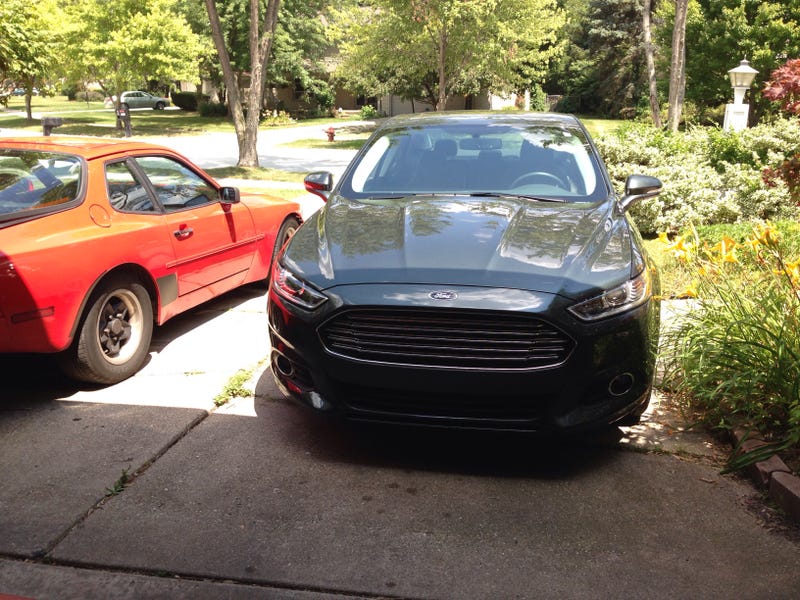 I have a Fusion now.
YEP! I've decided to throw away the boy-racer image, and be more mature, and wise. As a result, I now have a fully loaded 2015 Fusion SE.
Spec'd out exactly how I'd want it. Guard Green exterior with black leather interior! None of that damn My Ford Touch either. And shockingly, NO PUSH START!! I have a key again!! :D
Memory seats are a surprisingly nice touch as well! startled me when I discovered them, but a nice luxury for sure.
Powered by the same 1.5L Ecoboost that wasn't in my ST. Automatic trans though, and I like it! Such a comfy cruiser. :)
I think this will be a fun new car for me! I driven it around the block quite a few times now and it feels nice and simply better on the inside than my ST will ever feel!
Yep!!
I'm gonna enjoy this car thoroughly....
Very thoroughly...
FOR THE NEXT TWO WEEKS!! :D
· Disclamer: Ford wanted me to drive the 2015 Ford Fusion SE soooo very badly, they sent out a letter to Ford owners, stating if you allow us to take your car for a couple weeks for emissions testing, we'll send you a brand new Fusion and $100!! ROUSH came to pick up my ST an hour ago and left me the keys to this!! :D