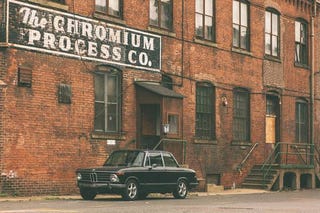 We've been checking craigslist for a while to find a good 2002 as a project car; maybe even making an M2 (dreams are good, right?) and found this posted today:
http://newhaven.craigslist.org/cto/4406244960…
It's a lengthy description of the car; tl;dr summary : "If you go for a hard 1-2 shift it'll grind, so don't do that. First is practically a crawler gear anyway, I only use it in parking lots and to get it going. Otherwise, shifts are smooth."
There isn't a price listed, and the seller appears to be willing to accept trades for other old project cars. The kicker with that is this part of the description:
Got bumped in the rear late fall of last year, haven't driven it other than moving it around the house since. Tails look serviceable, but the trunk won't close properly and the exterior sheet metal is pretty bad.
With no pictures of the damage it's hard to know how bad it is. What say you Oppo; is it worth a second look?