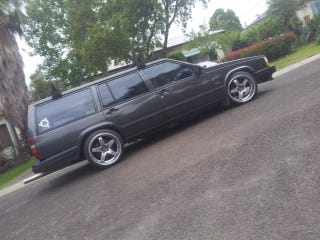 The good:
It's a fucking turbo volvo for a start
Custom 3 inch dump then turbo-back into twin 3in blast pipes by Havoc Fabrocation
Upgraded diff 5 speed manual swap
Leather interior w/heated seats
Wastegate actuator set to 13psi
VDO boost gauge
Huge Volvo front-mount
Lowered Koni Red shocks and springs
Tinted windows
Half a car worth of spares, entire front end I had ready for replacements if needed after track work
Spare drivers seat
Spare later-model engine with thicker (13mm) rods and later-model manifolds
No rust anywhere
Stripped roof lining looks great but might not be everyone's flavour
Great carpets, front seats aren't the best but they've seen a bit of use
Added rear swaybar
Superpro bushes in rear section and swingarms
5 puck ceramic clutch
Service history and receipts somewhere..
The bad:
Some paint fade in patches on the roof and on the bonnet
Dash has a couple of cracks
Carpark ding on drivers front quarter
Dent in rear bumper
Idle valve clogs every few months causing it to acquire a very angry idle note which actually sounds kinda cool
Passenger front tyre bald on outer edge thanks to all the roundabouts where I live
Suspicious RH engine mount making a weird noise I think
Turbo leaks a bit oil from oil feed line
$3500 AU or best offer.
Verdict? BTW, this is from an Aussie FB page.