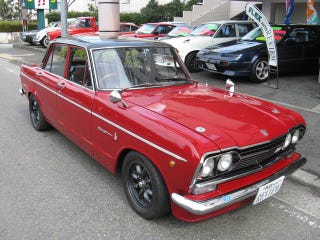 When it comes to vintage Skylines, everybody wants the Hakosuka and Kenmeri GT-Rs, but this here is where the legend started: the Prince 2000 GT-B. It's a classic factory hot rod, a car built for racing by a bunch of dedicated engineers within the company working after hours to show what they could do on the racetrack.
They took the sorta-sporty but not that exciting Prince Skyline sedan, threw out the truly dreadful 1.5 liter 4-banger the Skyline had to make due with back then and replaced it with the inline 6 out of the Skyline delivery van. Doing so required them to stretch the wheelbase forward of the firewall by 8 inches, and by doing so, they accidentally perfected the weight balance and created an absolute monster. A set of 3 Webers and a synchronized 5-speed completed the package (I have read that the production cars had the Suzuka gearbox, but I have no idea how true that is).
This car was Prince's last hurrah, the final expression of WE ARE AWESOME before the company was fully absorbed into Nissan, and as such, it's a very special piece of history.
This was the dominant car in Japanese racing until the Isuzu Bellet GT-R forced Prince/Nissan to drop the twincam S20 originally designed for the Prince R380 into the Hakosuka, giving birth to the Skyline GT-R we all know and love.

You don't see these cars show up that often, and when you do, you rarely see them in such nice shape. This one has been lightly modified, with a non-standard front air dam, a Nardi steering wheel (like pretty much every vintage JDM car on Goo), aftermarket wheels wrapped in a set of modern ADVAN tires, what appears to be more modern brakes and some period-correct racing buckets. You know, the stuff you'd want to do to it anyway.
It can be yours for $47,600, plus shipping costs, which you'll notice is about a third what you'll pay to buy a Hakosuka or Kenmeri GT-R. And while it's not as fast as the Skylines that came after it, but buying this means you'll be the coolest mofo at any classic Japanese car show. Unless someone brings a 2000GT, obviously.
Also, if Pancho could afford a vintage Skyline, it would be one of these. There is something about them, the whole after-hours racing beast thing, that makes me want one more than even my beloved Kenmeri. This is the perfect rebuttal to those who dare call Japanese cars soulless. There is nothing but passion here. It's a bunch of guys who loved the company they worked for wanting to show the world what Prince could do before the uncertain future that Nissan ownership would bring.