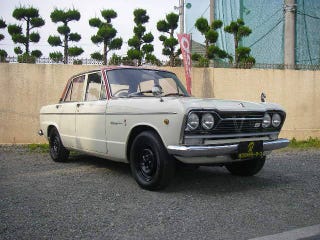 It's been a few months since I last posted something I found on Goo-Net, and honestly, I couldn't dream of a better car to bring what was my most regular Oppo feature back. As far as classic Skylines go, the GT-R is god, and for good reason, but as far as I'm concerned, the best car to ever wear the Skyline badge is the 65-67 Prince Skyline 2000GT-B. This is where the Skyline racing legend begins, and it begins with a truly special car.
In the mid 1960s, Nissan was rapidly enveloping the Prince Motor Company, with many of Prince's cars (the Cherry, the Gloria, the Laurel and the Skyline) becoming Nissans one after the other. Determined to give their brand one last hurrah before disappearing completely, the engineers at Prince embarked on that most noble of endeavors: they worked after hours to hotrod a humdrum car into a racing beast. They did this by tossing the 1.5 liter OHV 4-pot that was standard in the Skyline and replacing it with the 2 liter OHC straight 6 out of much larger Gloria and Skyline Van models and bolting 3 Weber carbs to it, bringing the power up to 165 in race trim and 125 on the street. Doing this required them to lengthen the front end of the car's chassis by 6 inches, an act that wound up making the car much more balanced and better in the corners.
Along with the bigger engine, they gave it a 5-speed transmission, disc brakes up front, a stiffened chassis and a 99 liter racing fuel tank.
They only built a few hundred of these cars, and seeing one for sale is a rare event. While Hakosuka and Kenmeri GT-Rs go for over 100 thousand USD, here's a very clean 67 2000GT-B for $40,040. That's not a lot for something as special as this, a labor of love turned limited-run homologation model.