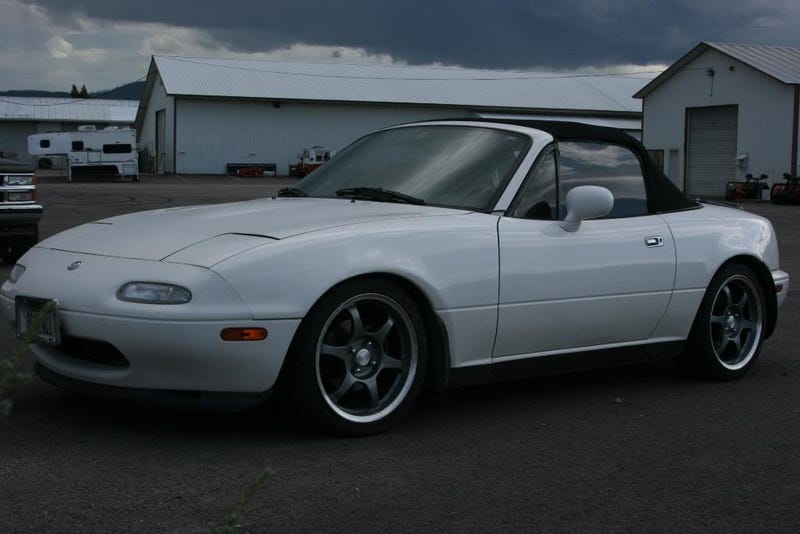 95 Supercharged Miata - $9000 (Kalispell) (says $8000 in description)
Are you ready for top down summer fun? This is the car for you! A/C Blows ice cold. Power windows. Cruse control. Black leather interior. Heated seats. It handles like it's on rails and has instant, reliable power! Imagine passing simply by rolling on the throttle; no downshifting. Climb a hill in 5th gear instead of 3rd. Leave a stoplight completely sideways-burning rubber. Yep, you can do that in this car!
Suspension - Energy Suspension Polyurethane bushings (all 48 of them!). Racing Beat subframe stiffner. Racing Beat adjustable sway bars. Racing Beat swaybar reinforcement blocks. Adjustable swaybar endlinks. Koni 16 way adjustable shocks. Racing Beat sport street springs.

Brakes: Brembo rotors. PBR Metalic pads.

Wheels and Tires: SSR Type C 16 inch wheels. These are the incredibly lightweight (11lbs each!) rims that look great and perform terrific! Tires are Toyo T1S's

Exhaust: Custom designed full length exhaust with high flow cat.

Drivetrain: Jackson Racing Roots-type Supercharger produces 6PSI of boost. MSD Spark control. 1.8L twin-cam (175 PSI compression on all 4 cylinders). Timing belt and water pump replaced around 10k ago. 5-speed manual transmission. Limited Slip Differential.

Black canvas soft top with glass rear window. Hard Dog 4 point roll bar.

White paint is in exceptional condion.

All suspension and brake components have less than 5k miles. Engine and transmission have 70k miles. Chassis has just over 179,000.

Available for the modest price of $8000 Add up the cost of all the parts and labor used to create this driving machine and you can't build one for this price!