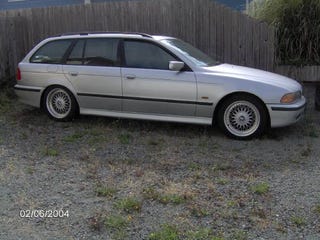 Youguys are pretty bad at convincing people not to do things. Did a quick search yesterday for suitable swap candidates and found this.

This would cut the work in about half compared to starting with an I6 as I expected I'd have to initially. Since it is a sport it already has the up-rated suspension and various bits of "M" trim I wouldn't have to transfer over. In fact, depending on how damaged the engine is I stand a decent chance of coming out of this with TWO working 540s (though I don't expect I'd put in the work to auto swap my current ratty shell). Not a huge fan of the grey interior and I'd miss my sport seats, but everything looks really clean in the pictures. It's been up there for some time so I bet the seller is willing to make a deal just to get it out of the way.
Also it's not really a salvage title, there are quite a few people who don't seem to know the difference between "not working" and "salvage title". The previous owner of my 540i manual made this mistake as well which is the main reason she didn't have people lining up to buy a "running" manual v8 E39 for under $2k.