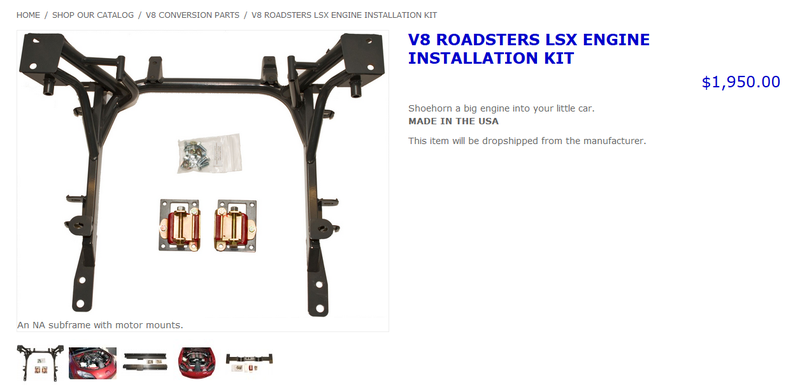 https://www.flyinmiata.com/v8-engine-installation-kit.html

Obviously there would be MANY other costs associated with a v8 conversion, but I feel like that would be an awesome project to take on some day. My Miata is soon to be crossing 200k on the stock motor and the front subframe rust is one of those "eventually this will be a problem" type of things. While I also have rocker rust, that is actually being fixed before I head to California. But the subframe repair requires engine out and a few thousand invested into proper repair, that could just rust again anyways. So a better solution is a new solid subframe and a nice new LS motor!
I still have to research the total costs but it would be a great dream to have in my distant future. I found out that Flyin Miata even has CARB legal options but those are $$$. Its probably cheaper to just register it in Montana if I still wanted to street drive it. Or make it track only and have another Miata for streeting!
Of course this was inspired by just browsing FMs website. I could always do a turn-key conversion for $50k haha. But doing the work is part of the fun.