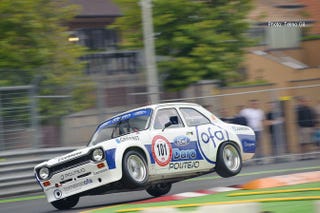 If you've raced in the series or are planning to at some point please read on, there's a lot of housecleaning to discuss this week.
RACE RESULTS:
1st (16pts) : topsirloin (onepoint8turbos), Porsche 914
2nd (15pts) - dr861 (LentAtom9), Datsun 240Z
3rd (14pts) - camaroboy68ss, Chevrolet Corvair
4th (13pts) - Corey CC97, BMW 2002
5th (12pts) - Picky Procyonid (KillerRacoon), Porsche 914
6th (11pts) - SVTyler (mackleroy45), Alfa GTA
7th (10pts) - K-Roll (Cmd Woods), Porsche 914
8th (9pts) - The Honda Man (InfernoVivo), 1980 Fiat 131 Abarth
9th (8pts) - Ly2v8-Brian (Kampfmesser), BMW 2002
CURRENT STANDINGS:
1st (47pts) - Ly2v8-Brian (Kampfmesser)
T2nd (39pts) - SVTyler (mackleroy45) and TheVancen (IXII Wrath IXII)
4th (38pts) - K-Roll (Cmd Woods)
5th (33pts) - The Honda Man (InfernoVivo)
6th (30pts) - camaroboy68ss
7th (27pts) - Corey CC97
8th (26pts) - dr861 (LentAtom9)
9th (23pts) - Parlock3 (AutoFixation)
10th (16pts) - topsirloin (onepoint8turbos)
11th (13pts) - Decay (Decay 107)
T12th (12pts) - P5guy (DarkSlayer6368) and KillerRaccoon (Picky Procyonid)
14th (11pts) - Kyle Cheromcha (datnoise)
15th (10pts) - Tohru (Tohru Rokuno)
16th (9pts) - Travis, Senna of the High Seas (Admiral Rumples)
RACE NOTES:
- First and foremost, this race was way too chippy; contact is kinda inevitable at Infineon but there's a fine line between regular racing incidents like bumper taps and sideswipes and just plain dumb driving. A few people complained about other racers after the race and, not going to name names, there was one person in particular who I watched make extremely dangerous and ill-advised passes all race, a few of which resulted in me being spun twice and a couple other people being knocked off the road altogether.
I'm going to chalk it up to general inexperience instead of willfully erratic driving so it's water under the bridge at this point but next week you have to drive more carefully and be more aware of your surroundings; not every corner should be treated as a passing opportunity. This goes for everyone: stick to your line, no erratic moves, pick your passes wisely, and avoid contact at all costs. This series is ultimately for fun but that does come with some caveats to make it enjoyable for everyone else: follow racing etiquette and take these races seriously if you participate. I don't know what kind of penalties we'll enforce if this shit keeps up but we'll have to do something, it's just not fair to everyone else who races clean and keeps their nose out of trouble only to be taken out by someone who's either not paying attention or driving like a jackass. Consider this your warning.
- Additionally, some people were complaining post-race about the BoP adjustments and the resulting effects they had on overall performance. I really don't know what to tell you, what we do now is honestly the best solution we've found to make things fair for everyone involved. Huge BoP adjustments do not correlate to unfair overall finishing times, just lap times, so unless you have any other ideas we won't be making any other changes other than how you determine your lap times during practice (see the second bullet point down). I'd ask for suggestions but I've been doing that since the beginning of the series and no one's seems to give a shit so I guess we'll just keep it as-is.
-In trying to make this series accessible for everyone the faster dudes are going to have to make some concessions including dropping our own PI and having to deal with slower drivers in the corners which will even out by race's end: the rules benefit drivers who are consistent and who make moves at the right time, which is why you'll see the same five or six dudes in the top 8 or so every week. For everyone else I reiterate: practice, practice, practice. By getting used to the track you'll find a faster line, be more consistent and decrease your lap time deltas, and ultimately not need to add so many PI to match the lap times. Speaking of which...
- Lap times. All but two people were at least a second-and-half faster than the max lap time, something that's happened every week we've done this race. So for next week we're trying a different way of dialing in your car: turn rewind back on while doing your practice laps and use it as much as you can while setting your times. The idea is the max lap time I post should be just that: a perfect time you physically cannot go faster than, not just something you get close to after three semi-decent laps and call it a day. In doing this I hope we won't have people running 2.5 seconds faster than the target time like we did this week.
- Finally, thanks to topsirloin and KillerRaccoon for racing with us this week. This race was a bit of an outlier as far as finishing times and overall race clusterfuckiness go, that's kind of the norm at this point when visiting a new track. Next week with the bigger cars should go a lot better.
Addendum: I don't mean to sound like I'm pissed off or taking things too seriously with this post; these races are the highlight of my week and I want everyone to enjoy them as much as I do, and one of the ways we're going to do that is by making sure everyone follows the rules which in turn makes racing more fair for everyone. Do that and we shouldn't have any further problems.
CURRENT ORLOVE TROPHY STANDINGS:
I didn't catch who all Orlove'd this week so if you did let me know.
Tohru (Tohru Rokuno) - 2
AutoFixation (Parlock3) - 1
Ly2v8-Brian - 1
The Honda Man - 1
HyundaiBroNowHasAMiata - 1
Corey CC97 - 1
UPCOMING RACES:
2/14: A550 @ Infineon
2/21: B450 @ Road Atlanta