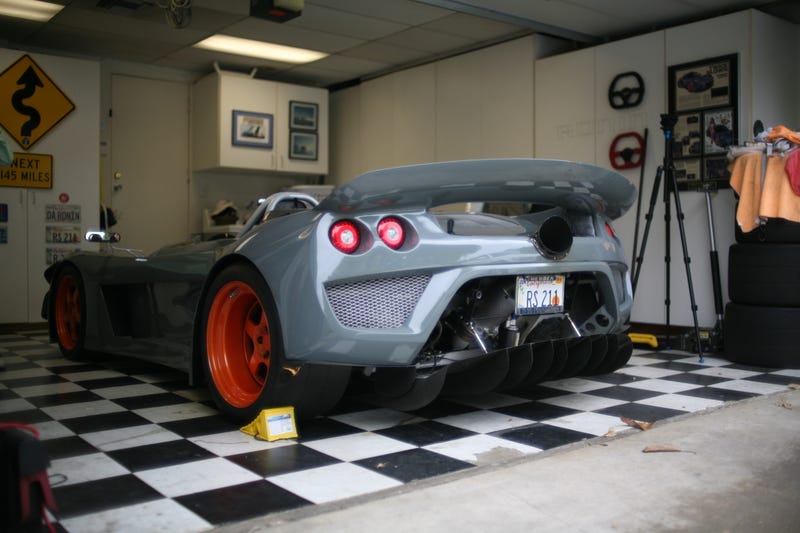 There are a couple reasons why it's so hard to convey the feeling of Frank's lotus to those who don't know the car.
You aren't with the car
You don't know Frank
I met Frank up on Mulholland and convinced him to let me visit him and the car to hear more about it. It was one of the most incredible experiences ever, and here's why.
The car itself is amazing. The shape, how wide it is, and the sheer aggressiveness of the body make it one of the most unique looking cars on the road. Frank started off with a Lotus 2-Eleven body shell and modified the crap out of it. He molded in a wing and made several more important aerodynamic modifications.
Of course, another amazing part of the car is the engine. It has 680 WHEEL horsepower, and is 1.8 liters. Let those numbers sink in. It's still the Toyota 2ZZ block, but with a TON of modifications. Where as it had a compound charging system before (both a turbo and supercharger), it's now "just" turbocharged. The other amazing part of the car is the E85 system. When it gets over a certain PSI (around 26 or so), another set of injectors starts mixing Isopropyl alcohol with the 91 octane gas, effectively mixing it's own on the fly. It's just amazing. And look at those headers.
Sorry for the crappy picture, but just LOOK!!!!!That's pure pornography!!!!!
The most amazing part of this car isn't really the car itself, but the owner, Frank. He has a background in restoration and an automotive past to envy. If you've ever lusted after it, he's owned it. A few notable examples are a Miura SV, Renault R5 Turbo, Ferrari F40, and TWO Ford RS200s (including an Evolution). One of those RS200s, the one below, ended up having around 900 HP by the time he was done with it.
Frank is a genius. Just a straight up genius. He did basically everything on the car himself. And this was a no-compromise build too. The best example of this is the rear hinge. He and a friend built that whole setup by hand. Rather than cutting into the rear clip so it could clear the diffuser, they created a setup which lowers the diffuser when the clip is opened up so it doesn't hit. Examples of this attention to detail are EVERYWHERE in this build, especially in the aerodynamics. Frank did nearly all the aerodynamic work on his own, molding the body into this creation. Though it's hard to believe, given the insane styling, the entire car has been built with function being over form. Every scoop and duct and dip is designed to push this car into the road and give it grip, something which can be hard to get with 680 RWHP and only 1800 LBS of weight to keep it down. It's an amazing car to see in something like Jay Leno's videos, but even more amazing when you realize that every detail has been added with the goal of making this thing turn.
I'm hugely thankful to Frank for having me come visit, and it'll be amazing to get a ride when it's not raining. It'll also be terrifying. The entire car vibrated and felt alive, even at idle. I'm still looking forward to the day when I'll get a ride.
Once again, thanks to Frank for teaching me so much about engines, aerodynamics, and just cars. Enjoy the photos.
Daily driver 991 Turbo S peaking out under the wing.
Look at how low that diffuser sits when the rear clip is open!
Such insanely short throws