Browsing Craigslist today while multitasking at work and came upon a great and inexpensive group of wants.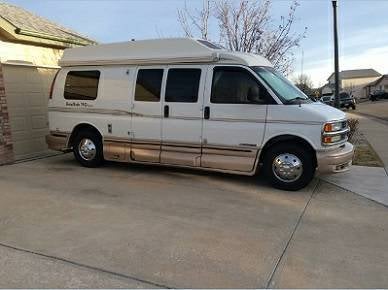 One small picture on a short ad, but it's supposedly a 2001 RoadTrek 190 Popular. Basically a Class C RV shrunken down into a van. Has a toilet, shower, stove, fridge, and a bed. Doesn't say what motor so I'll assume 6.0. 89,000 miles and seams like a real steal at $5,800.
I'm thinking I could find a hitch mounted bike rack so I could put this on the back (or even the front if necessary) of the van. 2008 XR650L. $3,000. I've been lusting after one of these for quite awhile to do some off road exploring on.
Those hitch mounted motorcycle carriers have pass-throughs that allow you to tow something right? Let's say they do. I don't need a super nice big boat, but something 17ft long that can pull a tube and cruise with some friends, then go out the next day and be a proper fishing boat would be ideal. This fits the bill. It's newer than most in this price range (1988), has a 90hp Evinrude, and seems to be in decent condition. Asking price? $3,000.
So there you have it. For under $12,000 (without negotiating) I could have a kickass weekend getaway system. I could camp, boat, ride a motorcycle, and explore. What more could I ask for?
Here, here, and here are the links to the postings as of 5/5/17. All found on the Minneapolis/St.Paul Craigslist.
So that's what I Unreasonably Want on a Friday. Anybody else have some bad ideas?