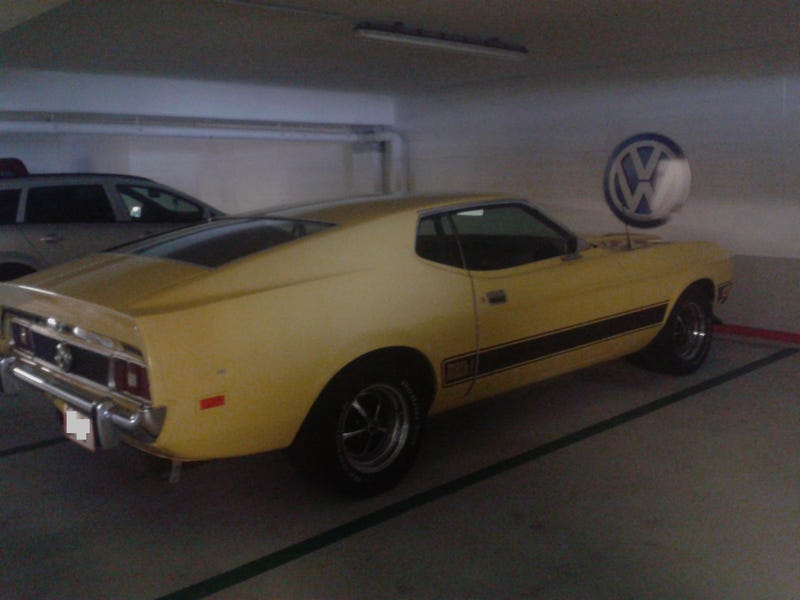 I'm not a huge fan of the 1971-1973 Mustangs. I'm not saying that there's anything wrong with those model years, but I'd place quite a few other Pony/Muscle cars from the 60s and 70s before them on "my list".
Still, the sad pictures of the Mystery Mach 1 make me want to adopt and nurse it to former glory right now! It hurts me to see the car sitting there abandoned and it pains me to know that with every day that passes a recovery will be more and more difficult and expensive. Hopefully it'll be saved before a restoration will be futile.
I'm glad that this Mustang parking in a garage in Flensburg way up in the North of Germany doesn't share the fate of its counterpart in Seattle.
But that's all I can say about this car. It's otherwise a mystery to me since I haven't taken the pictures myself. It's important to clarify this for two reasons:
1. I don't have to excuse myself for the potato-cam pics...
2. That's why this post is about more than just cars.
I received an Email today from my best friend. Attached were the two pictures and she wrote this:
I saw this car today and thought: "Ugly color and ugly car! However, I take some pictures for Mark." I don't think it's one of your favorite models, but maybe it's interesting for other reasons."
It very much is!
I already mentioned the similarities to the Mystery Mach 1 story, and then there was the 50th birthday of the Mustang a few days ago. But something else is way more important to me.
Lene and I shared a flat for about three years and we're friends for almost 9 years now. During that time she had to deal with my car obsession regularly. I showed her countless videos and pictures or tried to explain to her my passion for cars in general. Because she is a sympathetic person, she endured my rambling speeches about for example exhaust notes although she repeatedly stressed that she'll never be as enthusiastic about cars or specifically American iron as I am.
"One day it would be fun to surprise her by showing up in an old American car - maybe she'll understand me then", I always thought.
Last year I finally had the opportunity to do exactly that; I took her out in a 1970 Mercury Cougar.
This is us posing while looking like a person with three arms, broad shoulders and a huge head. The picture was taken with the same mobile phone camera as the ones of the Mustang above. I save the story of the Cougar - and better pics - for another post.
I think she had fun. Having heard, felt and smelled an old car now, she was able to understand us Jalops a bit better. The pictures she send are the best proof. A gearhead, however, she didn't become that day. But that's ok.
I dedicate this post to our friendship and the countless other people out there that support us Jalops in our passion by bearing our ardent monologues and nerdy behaviour when it comes to everything that (literally) moves us!
Thank you, you are the best!