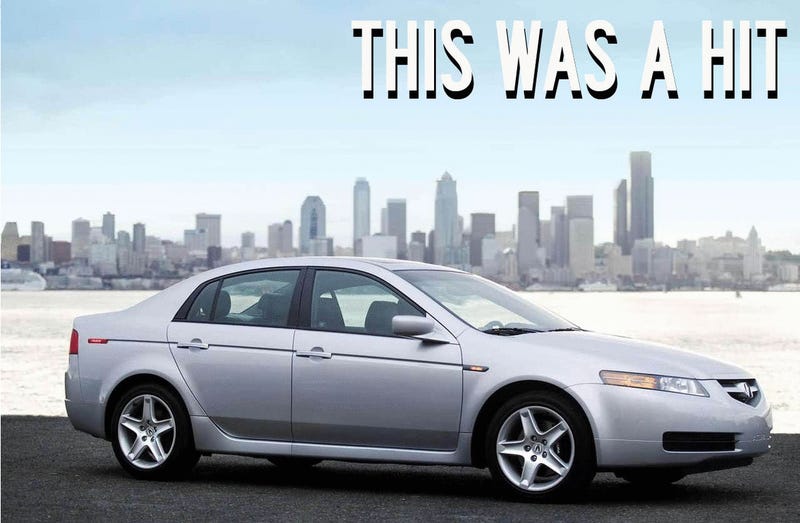 The automotive industry is usually given credit for spreading the gospel of planned obsolescence, which is where you intentionally design a new product to totally suck after you introduce its replacement. Planned obsolescence is the reason why you would replace your fifteen year-old car without an integrated infotainment system that has an aux jack for your iPhone at the drop of a hat.
Cynicism aside, planned obsolescence ultimately makes sense considering the rate at which technology evolves and improves, changing government regulations and shifting consumer demands. Stamping out the same tired family sedan literally unchanged for twenty years isn't likely to earn you any business if your biggest competitor is keen to constantly introduce a brand-new model every five years that exceeds crash regulations until Fox cancels The Simpsons, is fashionably styled, has this year's replacement-for-displacement engine that returns ninety mpg running on Tijuana prison water, and has super real hi-def surround sound audio so that you can even hear the producer farting in the studio on that crappy pop album you swiped from FYE's bargain bin.
Therefore, automakers are generally good about making a replacement model better than the one preceding it. Sometimes on a rare occasion however, that doesn't happen. In fact, manufacturers have trotted out new models that were actually worse than what they just sent out the door, whether it was because of retrograded or stagnant styling, powertrains, efficiency, driving characteristics, or some combination of the four.
Take the Acura TL, for example. When Honda's luxury division rolled out the third-generation TL for the 2004 model year, every auto rag on the rack at Barnes and Noble was willing to forgive it's front-drive layout in favor of it's respectable performance and handsome, contemporary styling. It was a proper, classic Acura like the venerable Integra, just larger. When it came time to replace it for the 2009 model year, Acura addressed the sole criticism of it's front-drive layout by making the new TL all-wheel drive, which improved its driving dynamics, only to completely screw it up by styling it like a bloated Saturn Aura with squinty headlights and cheese slicer for a grille.
Acura isn't the only guilty party here. Here are three more recent examples.
3.) 1999 Jeep Grand Cherokee to 2005 Jeep Grand Cherokee
The second-generation (aka WJ) Grand Cherokee was better than the old first-generation (aka ZJ) model in every way. The exterior improved upon the theme set by the ZJ by smoothing the lines and corners and better integrating that '90s styling Band-Aid known as "plastic body cladding." The interior was considerably redesigned so that the ergonomics didn't suck and you could stand to live in it on a daily basis.
When the third-generation (aka WK) version debuted for the 2005 model year, Jeep stuffed the 5.7 liter Hemi V8 under the hood, which was good. What wasn't so good was the terrible quality of the interior and styling it to look like a four-eyed obese soccer mom dicing onions.
2.) 2008 Chevrolet Malibu to 2013 Chevrolet Malibu
The 2008 Chevrolet Malibu was proof that General Motors could build a competitive and excellent mid-sized sedan. It's styling was attractive, almost upscale and GM didn't penny pinch when it came to ensuring the build quality matched Toyota and Honda. The interior was also a big leap to the front of the pack, with its dual chrome-trimmed cowl styling recalling vintage Chevys of years gone by. The press praised it, going so far as to warn the Toyota Camry its days as a perennial best-seller could be numbered. It certainly seemed that way because the 2008 Malibu helped GM increase its market share in the mid-sized sedan segment.
The 2013 Malibu, however, didn't keep that momentum going. The interior was badly cramped with the back seat only being fit for someone missing their legs below their knees. Fuel economy — even with a four-cylinder only line-up and a "mild" hybrid (whatever that means) version being the first model available at launch — was last-in-class. The exterior lost the masculinity and gracefulness of its predecessor and gained what has to be one of the most awkward decklid designs since the 2007 Chrysler Sebring. As a result, Car and Driver magazine placed it dead last in a comparison test against five other family sedans including Volkswagen's beancounter-ized 2012 Passat and an Accord dating back to a simpler time when Miley Cyrus wasn't whoring for attention, trying to give some douchebag with a pompadour a chubby on live television.
GM performed an "emergency refresh" on the Malibu for the 2014 model year that gave it a fancier schnoz and a new set of cupholders, but didn't fix much else. Note to the Toyota Camry: you're safe.
1.) 2006 Honda Civic to 2012 Honda Civic
The 2006 Honda Civic was a big improvement over the seventh-generation model not only when it came to engines, driving dynamics, and fuel efficiency. It's styling inside and out shed the old car's safe, predictable image and shook up expectations, and people were actually talking about Civics again without wanting to grab a pillow. Buyers and critics alike either loved it or despised it for the unorthodox placement of its digital speedometer and it's extreme "suck it Chrysler" cab-forward styling. Europeans were treated to a even more bizarre looking hatchback version with a front fascia borrowed from an '80s Mercury Topaz and rear door handles stolen from a Nissan Pathfinder.
You would think Honda would replace it with something even more outlandish. But no. Instead Honda rolled out the exact same car with a cheaper interior and said it was brand-new and improved. Critics scowled and yawned. Buyers yawned and bought one. (I just yawned ... where's my pillow?) Consumer Reports, best known for rebottling the same Honda-flavored Kool-Aid they pass out at punch parties, even agreed it was terrible and stopped recommending it.
Honda apologized and, while doing their best Ron Paul impression, blamed everything on big banking. Like the Malibu, Honda performed an emergency refresh on the Civic for the 2013 model year that, well, didn't really change much of anything. Good work, Honda.
I'm sure that these three overachievers aren't the only examples of automakers succeeding at making a new model suck versus the old one. What's your nomination?
Like this article? Keep up with the madness by following Ignitionist here on Kinja or on Twitter @ignitionist. You can send all hate mail, tips, and kudos to theignitionist@gmail.com. Be classy, stay sassy, and thank you so much for reading.