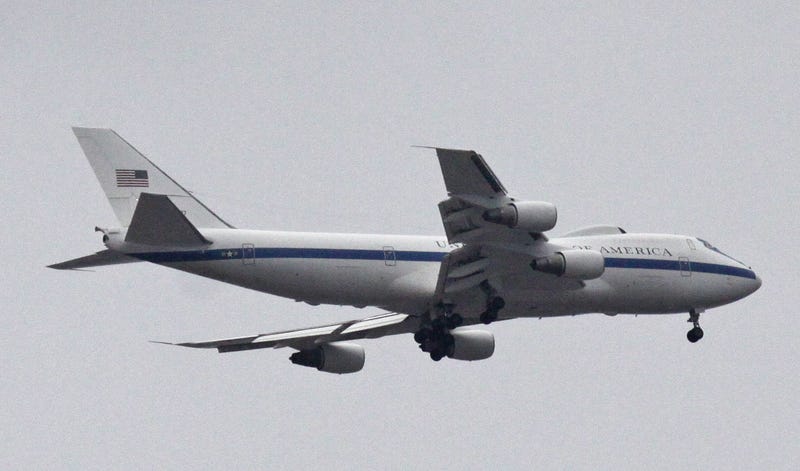 I was sitting on my front porch this afternoon, enjoying a cigar and a crossword puzzle, when I heard a jet that was noticeably different from the 737s and MD-80s that usually fly over my house on their way to Austin-Bergstrom Int'l Airport. Looking up, I saw this Boeing E-4B, gear down and on final approach. I dashed inside, grabbed my camera and managed to squeeze off a couple of shots before it passed out of sight.
Based on the Boeing 747-200, the E-4B is an aerial command post for the National Command Authority (POTUS, Secretary of Defense), and is shielded from nuclear attack or electromagnetic pulse (yes, EMPs do exist outside of The Matrix). The hump on top of the fuselage houses a super high-frequency antenna. The Air Force has four E-4Bs, and they are all assigned to the First Airborne Command Control Squadron (1ACCS) of the 55th Wing at Offutt Air Force Base in Nebraska. When operating, the E-4B is known as the National Airborne Operations Center.
I have no idea what it is doing in Austin. I have seen one of these only once before, at Dyess AFB in Abilene, TX (below), when it was a decidedly better day for photography. But this was certainly a unique catch here in Austin. I don't often do much plane spotting in my pajamas. (It just flew over again. They must be doing touch-and-gos at KAUS).