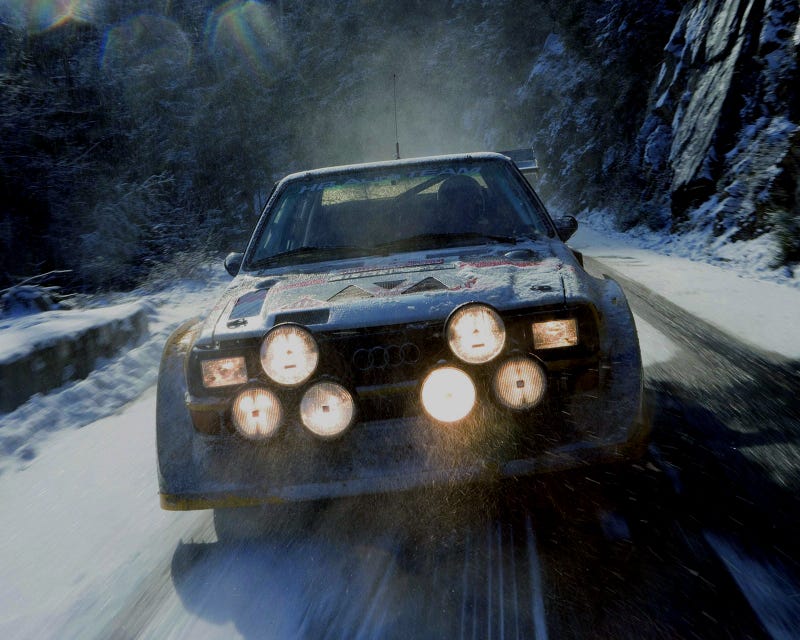 So you kind of accidentally went back in time and wound up somewhere in the 80's. Your inner Jalop-sense is turning your shock into excitement, because it's the era of the Killer B's...
Naturally, you showed up in your friend's Delorean that he had for sale. You were test-driving it one day and well...the rest is history.
The back story to the Group B rally class is this. It starts in 1982, with the FIA creating an all new class of rallying. It lowered road car homologation requirement to only 200, compared to Group A's 5000. Combine that with very few restrictions on the technology for these cars and we have a recipe for success; I mean there was no limit to boost pressures or the materials used at all. Manufacturers took this as a playground to test their state-of-the-art technologies, and with that came a huge marketing opportunity to boost their marques through this take no prisoners style of competition.
The cars throughout this era were monsters, barely controlled by their drivers. They were all wheel drive machines with advanced materials such as aluminum, magnesium, and Kevlar, capable of speeds that were faster than F1 cars at that time. The only limitation these beasts had was the road itself and the driver.
LANCIA 037
A knife to a gunfight, this RWD Lancia Won the World Championship by beating out an AWD Audi Quattro
PEDIGREE: 1983 World Rally Champion
DRIVERS: Walter Rohrl and Markku Alen
PERFORMANCE: EVO II form, 325hp
WEIGHT: 2161 lbs
LAYOUT: Mid-Engined RWD
ENGINE: 2.0 L in-line 4 DOHC with supercharger
AUDI QUATTRO:

The original AWD rally car that was a paradigm shift to the rally world. It was front heavy, unreliable, and unwieldy to drive. That didn't stop it from winning the 1982 and 1984 World Rally Championships.

PEDIGREE: 1982 and 1984 World Rally Champion
DRIVERS: Michelle Mouton, Stig Blomqvist, Hannu Mikkola, and Walter Rohrl
PERFORMANCE: 300hp
WEIGHT: 2645 lbs
LAYOUT: Front Engine AWD
ENGINE: 2.1 L in-line 5 DOHC with turbocharger
Audi Quattro S1 E2 Variant:
"Cry havoc and let slip the dogs of war"...0-62 mph came at a blistering 3.1 seconds
PERFORMANCE: 500hp
WEIGHT: 2403 lbs
LAYOUT: Front Engine AWD
ENGINE: 2.1 L in-line 5 DOHC with turbocharger
FORD RS200
"This car is like a spaceship on wheels" -Abraham Lincoln
It had a spaceframe chassis, Kevlar body panels, and twin shock absorbers on all 4 corners. The car was mid-engine with a front mounted transmission that required power to be sent to the front wheels first before the rear, creating a very complex drive train setup. The RS200 also has tons of Sierra parts crammed into it because Ford was in kind of a hurry to build this thing.
PEDIGREE: 3rd place finish 1986 Rally of Sweden
DRIVERS: Kalle Grundel, Marc Surer, Michel Wyder
PERFORMANCE: 450hp
WEIGHT: 2315 lbs
LAYOUT: Mid-engine AWD
ENGINE: 1.8 L in-line 4 DOHC with turbocharger
Lancia Delta S4
Function over form, the S4 was a juggernaut through and through
PEDIGREE: 2nd place in 1986 and 3rd in the 1985 World Rally Championship
DRIVERS: Henri Toivonen and Markku Alen
PERFORMANCE: Official "480" HP, realistically 560 HP
WEIGHT: 1962 lbs
LAYOUT: Mid-engine AWD
ENGINE: 1.8 L in-line 4 DOHC twincharged super and turbo
Peugeot 205 T16
"When there is no peril in the fight, there is no glory in the triumph" -Pierre Corneille
PEDIGREE: 1985 and 1986 World Rally Champion
DRIVERS: Timo Salonen and Juha Kankkunen
PERFORMANCE: 424 HP
WEIGHT: 2000 lbs
LAYOUT: Mid-engine AWD
ENGINE: 1.8 L in-line 4 DOHC turbocharged
Rover Metro 6R4
This is what happens when you're late to the game...Group B gets banned halfway through your premiere season
PEDIGREE: 3rd place finish in the 1985 Lombard RAC Rally
DRIVERS: Tony Pond
PERFORMANCE: 410 HP
WEIGHT: 2292 lbs
LAYOUT: Rear/mid-engine AWD
ENGINE: 3.0 L V-6 DOHC naturally aspirated
Renault 5 Turbo 2
Completely outclassed at every turn
PEDIGREE: 1st place in 1981 Monte Carlo Rally and 1985 Tour de Corse
DRIVERS: Jean Ragnotti
PERFORMANCE: 345 HP
WEIGHT: 2138 lbs
LAYOUT: mid-engine RWD
ENGINE: 1.5 L inline-4 DOHC turbocharged
Other Notable Mentions:
Toyota Celica
Porsche 959
Citroen 4TC
The End of an Era
Group B, in its closing moments was plagued by death. In 1986, A Ford Rs200 plowed into a crowd of spectators, killing 3 while injuring 31. Later that year, A Lancia Delta S4 flew off the road at the Tour de Corso stage of the Corsican Rally. The car crashed into a ravine and burst into flames. It was in such a remote spot, that rescue teams took half an hour to get to the scene. All that was left was a blackened space frame and the dead bodies of Driver Henri Toivonen and Co-Driver Sergio Cresto still sitting in their seats. A Few hours after this incident, the FIA officially banned Group B starting from the 1987 season.
Toivonen's last words to the public were, "It's hard to keep up with the speed" before his fatal accident.