There wasn't supposed to be a Chrysler 300m. The car we know as the 300m that kicked so much ass in all the comparison tests of the time was really developed to be the Eagle Vision. Development was almost entirely complete when ChryCo shuttered Eagle, and after a quick rebadge the 300m was born.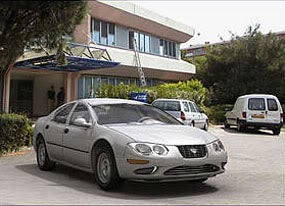 Before you begin scribbling that letter of outrage, yes, we are aware that one of our 10Best cars is finishing second in this comparison. Be advised that it became runner-up by a single point based essentially on slightly higher marks for the winner in the areas of engine sophistication, fit and finish, and ride, even though this Chrysler was judged to have the better transmission and brakes. We still love the 300M, based on its overall road manners, its solid, broad-spectrum power, and its dazzling, off-the-beaten-path good looks. In retrospect, among our nine competitors, only two cars — the sensuously lined 300M and the boxy little Volvo S70GLT — could instantly be identified among an androgynous mass of conventionality.
But as they say, beauty is only skin-deep. It is the visceral sportiness of the 300M, enhanced by its interior comfort, functionalism, and overt emotionalism, that generated such high marks. Although it was the second porkiest of the group — 3630 pounds — it boasted the best power-to-weight ratio and was among the most nimble. It won for best brakes (stopping from 70 mph in 180 feet) and tied for best grip (0.82 g). It trailed the featherweight Volvo S70GLT by just 0.3 mph in the emergency-lane-change maneuver, at 60.5 mph — the only two cars to break the mile-a-minute barrier in this difficult evaluation of steering and suspension capabilities.
It is also apparently a tough bird, having survived a ditching on a snow-covered Adirondack Mountain road while being driven by one of our California-based staffers whose total foul-weather driving experience involved a brief rain shower on the San Diego Freeway. Once the 300M was extracted, it behaved fine — but for a slight vibration from the right-front suspension.
The 300M was the widest of the nine cars, and perhaps consequently it was the most commodious, gaining high marks for its fully adjustable front buckets and its large rear seats, which fold down to enhance the barn-size trunk. This is Chrysler's so-called five-meter car, a truncated version of its LH-sedan sisters designed for export to other nations where size is a factor in urban areas. The 300M is truly an international automobile, and its 253-hp, 3.5-liter SOHC V-6 propels it to an autobahn-worthy top speed of 138 mph. Add a crisp-shifting four-speed AutoStick that behaves much like a manual, and you have a reasonably priced ($31,845 as tested) sports sedan that can play in any league, any time, anywhere