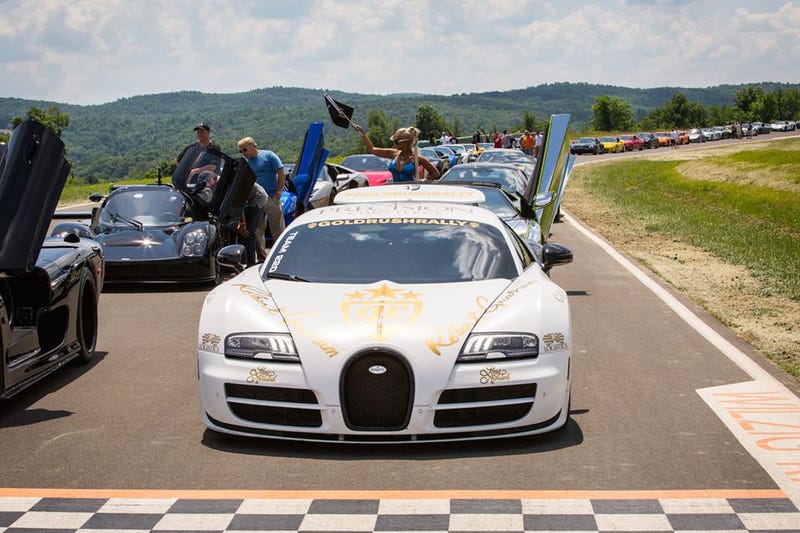 This past Sunday Wilzig Racing Manor in West Taghkanic, NY hosted an event to raise money for a local camp that caters to a very special group of kids. In neighboring Craryville, Camp Sundown plays host every summer to young kids afflicted with Xeroderma Pigmentosum. XP is a very rare genetic disorder which affects the body's ability to repair cell damage from UV light; in extreme cases all exposure to sunlight must be avoided. Sadly, fewer than 40 percent of those afflicted survive past age 20.
Alan Wilzig hosted the Driving Force Club at WRM, and this year's turnout was outstanding. Alan's association with Camp Sundown began a few years back after meeting its founder Dan Mahar, whose own daughter is afflicted with XP. Camp Sundown had been operating on a shoestring budget, with Dan and his wife Caren covering expenses. Smaller events at WRM in 2011 and 2012 helped provide operating cash for the camp, but things really got rolling (so to speak) in 2013 when Alan's associate Dan Sperling took over organizing duties. The proof is in the results: last year's event raised over $16,000 for Camp Sundown's operations, but this year's take has been over $41,000 thanks to the strong turnout and overwhelming generosity of several of the club members.
Driving Force Club owners came from as far away as New Jersey and Long Island, NY. A veritable Who's Who in exotic sports cars, virtually all makes were represented on Sunday - Lamborghini, Ferrari, Mosler, Ultima, and McLaren. A Bugatti Veyron and SSC Aero were in attendance as well.
The license plate on this Mosler reads "240MPH". Yikes.
Some Jalopnik readers might recognize this as Bryan Salamone's Aventador.
Peter Huber from WRM drove the 370Z safety car, and lead the owners in groups around the track for many hot laps.
An exotic car rainbow? This could be a poster hanging in a kid's room.
SSC Aero, Mosler MT900 and Veyron. One seriously fast lineup.
More hot laps following Peter in the WRM safety car.
Alan and Karin Wilzig, Dan Sperling (in the Camp Sundown shirt).
For more information on Camp Sundown go to http://www.xps.org/campsundown.ht…
Photo credits: Alan Wilzig, Griffin Gamcsik, Inno Photography, Hovik