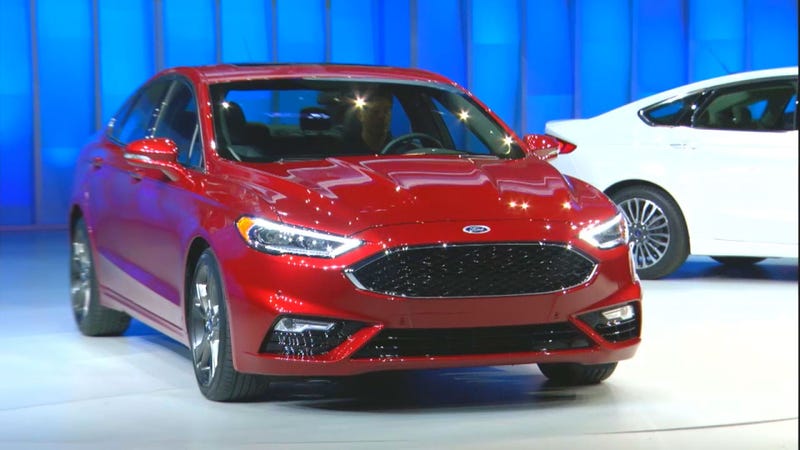 I know, it's hard to believe this car is about to have a huge impact on the entire auto industry. Well take a moment to listen to the rantings of a man that got into the argument that "lamps" get their name by combining "light and amps."
There is a 2.7L twin-turbo V6 in this staid family sedan that's making 325hp and 350lb-ft of torque. I remember a time long ago, perhaps December, when we bemoaned our midsize sedans going to exclusively 4-cylinder options. In fact, the only saving graces of the Accord and Camry from complete beigeness were that you could get them with a V6. Now granted the Altima, Legacy, 200, and Passat all have a V6 option but that's not the point! The Mazda6, Optima, Sonata, Malibu, and current Ford Fusion offerings only have 4-cyl options. The amount of midsize sedans without V6s is so close to a majority that we can complain about it and freak out!
But here comes the Ford Fusion Sport. Not only does it bring back the V6 midsize Ford, it brings turbocharging to that V6 we thought would go extinct. Not to mention this thing is AWD, includes adaptive dampers, and starts at around $34k (maybe closer to $33k I'm hearing).
Now here's the real reason I'm excited. The Fusion is one of the best selling sedans in the world and the average purchase price of a new car in the US is right where this Fusion enters the market. This thing is actually going to sell within one of the most competitive vehicle segments in the industry!
Think about it like this, Ford realized it can offer a Volvo S60 T6 R-Design for $10,000 less. The Acura TLX can't match this. Like the Acura, you can get a Buick Regal Turbo GS AWD for the same price but you miss out on 66 hp (I believe the manual was discontinued for the 2016 Buick Regal, someone double check me).
Seriously, Ford just exploited a huge hole in the market and there is nothing competing against it. Everything around the Fusion Sport either doesn't make the power or doesn't have enough Prestige/Luxury to really be worth "stepping up" from a top end Fusion.
Better family sedan than a WRX? Hey, I didn't say it! Much like Bruce Willis' daughter, it's just a Rumer!