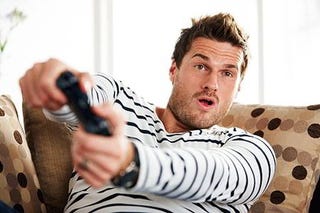 Admit it, at some point in your pimple-prime days of poorly-timed erections and fantasies about dating that popular cheerleader, you also dreamed about getting paid to play video games.
Well, here's your chance.
But this just isn't any video game, this is a famous racing series. Yes, cars, video games, all in one job.
It's like you're 13 and the Countach poster on your wall and the Cindy Crawford pullout under your mattress have come to life and collided in your pants.
The job, titled Car Fanatic: Vehicle Accuracy Tester, is being filed by a third party, so the exact company isn't known. The job is located in Redmond, Washington, home to Turn10 Studios, makers of Forza, but I'll let you hypothesize what developer is offering this opportunity. Keep in mind Redmond is home to many game developers.
Here is the job description:
Are you a motorsports geek? Are your friends/family sick and tired of listening to you spout off facts and figures like a walking dictionary of racing info? Can you define the optimal line through the world's greatest race tracks? Can you break down the differences between the different layouts on the Silverstone Circuit? Do you know which tracks feature "The Karussel," "Mulsanne Straight," and "The Corkscrew?" Are you a member of a car club? Do you incessantly post on message boards? Do you attend auto shows, meets, trade shows or other car-oriented events? Do you autocross, race, rally, drag, or drift in real life? Do you memorize chassis and engine codes, peak horsepower, VTEC engagement RPM, final drive ratios, and boost pressures?
We are a studio that has created one of the most acclaimed motorsport gaming franchises. We are looking for a car fanatic to help test car content in an upcoming project. Candidates need to love cars – not just your car – but a deep passion for all makes, models, and sizes of cars. Are you the authority on option packages for cars around the world? This position will be responsible for testing the visual accuracy of vehicles to both reference and the intended specification of the vehicle. An ideal candidate not only loves cars, but wants to start a career in 3D modeling and is familiar with the tools (3DS Max and Maya). This position will work daily with designers, producers, and other testers to ensure all cars meet the studio's very high quality bar.
REQUIREMENTS:
Qualifications:
Candidates need to score a minimum of 7 out of 10 correct answers on a pre-screening questionnaire prior to being accepted for a phone screen.
Applicants need to be very knowledgeable about a wide range of car models and their features from diverse sales markets around the world.
Applicants need to be very familiar with cars at a mechanical level
Applicants should have personal knowledge about tuning and vehicle modification
Automotive education or automotive industry experience preferred
Experience with 3D Modeling programs (3DSMax/Maya) are required.
Candidates with high-level experience with digital imaging software will be considered.
To apply go here
http://www.prithvicatalytic.com/careers.html
Note: Apologize for any errors in this post as it was typed on my iPhone while soaking in a hot bath of Calgon salt.