ome of you may know that I recently expanded the attached garage at my house. It's essentially done now. I just have some tools and workbench to put in. eventually, I'll have another pad in the back yard for parking/storage of a vehicle or trailer.
Access to a pickup is great. This one has been serving the family since 1990.

The house had a driveway going into the back yard. There was (and is) a roll-up door on both ends of the garage.

I got a good deal on part of the work at least. I got a company I used to work for do the excavation and drainage work.

It was exciting to get the floor poured after a month of waiting for the weather to cooperate. We seriously spent a month waiting between excavation and the concrete pour, just due to the weather.
This setup made me nervous.

That's a lot of the house protected by not much more than a plastic sheet.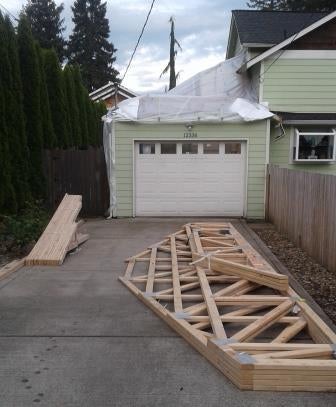 I was really glad when the new roof trusses came. The supports for the tarps pictured wouldn't really hold up to much stress.

This is what worried me the most. The house was exposed and the rain came down hard. I was pushing large puddles out of the tarps before this picture was taken. Some of the supports fell down in the night and woke me up, luckily. Otherwise, I would have had serious water damage to the house.

a
The drywall was code required for fire. It does help keep everything bright in there though.

Also, notice the sub-panel on the left. If you're doing a project like this, upgrade the electrical system. I have more outlets and 240V connection in there now.

I think it looks pretty good now. It's only slightly different looking from the front. It does no longer send water back toward the side of the house over the garage. DONT SLOPE ROOFS TOWARD YOUR SIDING!

It's also good looking from the back. However, that step down from garage floor level to grade has to be dealt with. I just got 5 cu-yd of crushed rock to start that process.

The inside. Here it is. I put a bunch of storage on the sides and overhead. The overhead storage is high enough that anyone under 7 ft tall can walk free and clear under it.

In the end, I paid too much for the contractor's work, but I like what they did. I don't know if you can get a reasonable price here. Oh, well. It's done -ish.