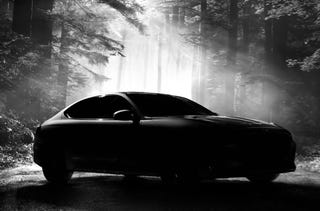 We know that the G70 will be launched on September 15th so the leaks should be rolling in by this time next week. To me, this is the first time a Korean car has actually been developed to compete directly with the cars they say they will compete with. Ever since Hyundai had journalists compare the Veracruz against the Lexus RX they have been doing this trick of having the cars compete with bigger brands than they could ever win against. This way, even though they fall short everytime, the value seems much higher and the cars are always mentioned in the same sentence as luxury brands instead of the real competition.
You can find Kia Sorento vs Land Rover Discovery Sport instead of Mazda CX9. I've seen Genesis products versus Cadillacs and BMWs instead of Chryslers and Lincolns. If you're going to lose a one-on-one basketball game then make sure you lose against a professional. This way you get cheers jist for scoring a basket against them rather than having some average (but better than you) amateur embarrass you in front of your peers.
That said, the G70 does seem to be 100% aimed at being a European brand competitor, which will be a first for anything out of HMG in my opinion. The G70 has been developed against the 3-Series — which is low hanging fruit this generation, plus they have the guy who engineered it) — still, from what I've seen it does appear calibrated to hit the segment at just the right spot. Think of the G70 more like the G37 successor the Q50 some how didn't quite pull off being. I mean the nomenclature is closer already!
The fledgling Korean sports sedan won't have the new Genesis look — which will involve a new grille design and a dual split-row of lighting as previewed on the GV80 Concept above — however the proportions do look very tasty on the prototypes to this nearsighted master of garrulity.
Performance wise the speculations are focused around the V6 car so I'll toss in the stats of the other HMG cars that us the same engine:
Genesis G90 3.3t: 0-60 mph in 5.4 seconds, quarter mile in 13.9 seconds. Around a quarter of a second behind the most direct competitors, but don't quote me since I dont follow this segment's performance as closely as the segments below it.
Genesis G80 Sport: 0-60 mph in 5.2 seconds, quarter mile in 13.8 seconds. This is about a half second behind the German cars.
Kia Stinger GT: 0-60 mph in 4.7 seconds, quarter mile in 13.2 seconds. This is actually close to a quarter second behind German cars. There is a big weight gap between the K-Series platform and H/I-Series platform, in case that jump in quarter mile time from G80 to Stinger caught your attention.
Genesis G70 3.3t: 0-60 mph right on 4.5 seconds, quarter mile around 13.0 seconds. This pretty much matches German cars but already sub-4 second 0-60 mph runs and high 12-second quarter miles are popping up on updated German cars.
Im bad with exact weights but I know that the cars on the H/I-series platform are heavier than finding out your parents are divorcing. The K-Series platform cars are husky but not enough to make you emotional, plus they are right around Mercedes weights. Mercedes still loves steel.
The G90 3.3t is around 4,800 to 5,000 lbs. The G80 3.3t is between 4,500-4,650 lbs. The Stinger V6 seems to be between 4,000-4,200 lbs. The G70 V6 is likely running around 3,850-4,050 lbs. It is also more expensive than the Stinger at every level according to the revealed price range in Korea.
This car and two other cars are what I'm waiting to see before I pull the trigger on a Stinger, G70, or the other two neat products. All I know is that my body is ready for a car that has better steering feel than a busted faucet. Real talk.