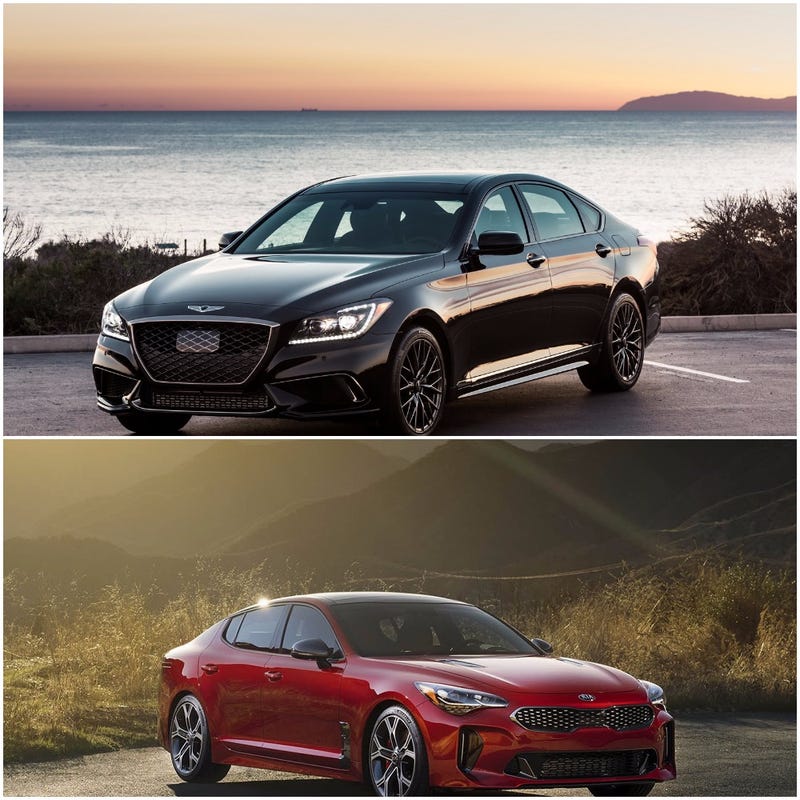 They are pretty much the same car, just wrapped in different bodies. The G80 Sport is a looker, especially with its use of Copper trim. The Stinger is something else entirely. I think its wonderful. A poor mans A7 in the rear, while being just as aggressive in the front.
Its surprising that Hyundai/Kia is going to have two performance vehicles under its belt. Both share their corporate 3.3 twin turbo V6 putting out 365 horses to the rear wheels. The Kia also gets a base 2.0 turbo 4 putting out a not too bad 255 horses.
Interior wise they both dont disappoint from what I can see, with the Kia being more sporty than the G80.
Hyundai/Kia does a good job of giving you a lot for your money. The Genesis G80 Sport really has no options, and rings in at an MSRP of $56,225 ($57,750 with awd). I do wish you could get the 5.0 V8 in the Sport trim.The Stinger is expected to start in the 40's for the base turbo 4, and top out over $50 grand for the twin turbo V6. Both of these vehicles, no matter how good, have the sad stigma of their respective brands, which has caused other cars they make, namely the G90/Equus,and the K900 to not really sell.
So which would you guys choose, the Stinger, G80 Sport, or something else because of the lack of brand prestige and respect?