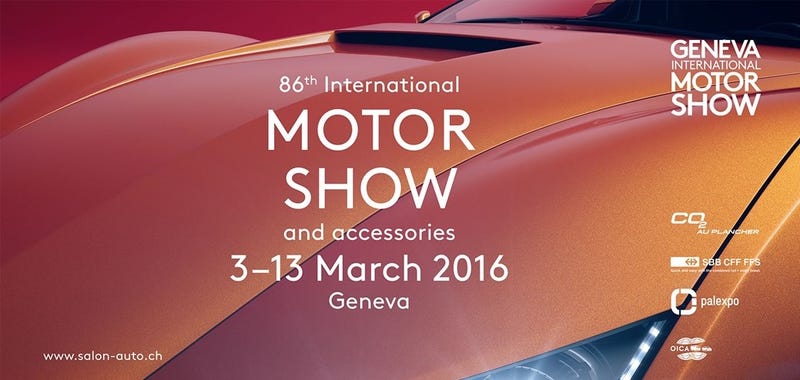 Geneva is almost always a really cool show: both to look at in pictures and to attend in person. I've never had the pleasure but I know several people who have and they rave about the atmosphere and general excitement the show seems to pack.
A few years a go when we all were embroiled in the great recession of 2008-2013, the Geneva Motor Show, along with all others, didn't shine quite so brightly.
2016, that seems to be a completely different kettle of fish.
Unofficially, the shows' biggest star and the poster should include, the Bugatti Chiron. A 1500 HP, 260 MPH $2,600,000.00 super/hyper car. What recession?
The Bugatti isn't the only stratospheric priced or HP'd car at this years show. Here is my brief take on Day 1 and most of the cars that had their covers officially taken off.
Credit to carscoops.com for the reference material. They have put the show in a nice easy to use format for checking out all the great machinery.

Fiat/Abarth 124 Spider - Cool, it's the Abarth version but I still think the Miata looks better. Now if Mazda would only do a Mazda Speed version with turbos!
ABT RS6 Limited - Funny how Americans more than any other people on Earth, modify their cars and yet these awesome EU tuners just keep shying away from NA. Cost and legal considerations be damned!
AC Schnitzer X6 Falcon - read above.
Alfa Romeo Giulia - Oh Alfa, such beautiful cars, most of the time, and such poor quality. It's 2016 ,not 1966. The Giulia is the reincarnation of the E39 5 Series though.

Alfa Romeo Giulietta - I think so little about this car, not just because it's an EU only car. Does FCA re-badge it for anything else in the world? A new Dodge Neon?
Alpina BMW B7 - Elegance and class, this car is amazing.

Apollo N - We're spoiled for choice in today's marketplace. Would any of you choose this?
Apollo Arrow - The more traditionally styled N?
Arash AF8 - Honestly I'm not sure what to think: it's not bad or good, it's just kind of there.
Arash AF10 Hybrid - Silly, but at least from an engineering stand point this thing steps out into the new and somewhat unknown. I'm not putting down this company, really I don't know much about them and perhaps the efforts and products they are making can make a real difference in the automotive engineering world.
Aston Martin DB11 - Astons' are pretty and so is this one. The question remains, as it has for over a decade now though: is this enough? Did Aston need to transform into a whole new design language? My answer is no but let me know what you think..
Audi Q2 - It's like waking on your birthday and being surprised you're one year older than you were yesterday.

Audi RS Q3 Performance - Much like AMG and M, does the RS badge mean as much as it once did?
Bentley Mulsanne/Mulliner Limo - It feels very old, not the car but the very idea of the car, one like this in 2016. I wonder in a head to head fight, comparable models and prices, what would the sales figures be for the Bentayga vs the Mulsanne/Continental?

Bentley Flying Spur V8S - I'm an old man so this is the car that I think best exemplifies Bentley. A proper and somewhat, somewhat, understated sedan.

Bugatti Chiron - Undoubtedly the star of the show. What other car has drawn more press form the average and non enthusiast media world: None! The let down? A marketing campaign and lifestyle merchandise catalog that really should make you puke. http://jalopnik.com/comment-of-the…and just for good measure this http://jalopnik.com/the-bugatti-li…
BMW i3 Mr. Porter - Ummmm, it's a nice shade of blue, I don't know what's new.
BMW iPerformance - basically anything with a plug will be an iPerformance machine, OK. It is interesting though that BMW is labeling this as a 'performance' upgrade and designation. Good strategy I think.

BMW i8 Protonic Red Edition - I swear when I first read the headline I said "BMW i8 Pontiac Red Edition". Really though, is this what we have come down too: a new paint color is worthy of a world premiere at the Geneva Motor Show?
BMW M760Li xDrive - That's a mouth full.
BMW M760Li xDrive Excellence - Really? I like BMW but they had sweet fuck all for this years show.
Brabus MB-AMG C63S - A place for everything and everything in it's place.
Brabus MB G500 - I think it should be mandatory that if you own any version of a G Wagon, you must be shot at, at least once a year from high powered automatic weapons.

Brabus 900 Rocket S65 AMG Coupe - Too much? Of everything.
Castagna Fiat 500L Tiberio - The stock Fiat 500L is a WTF, this thing takes it to a whole other level. How do you start with something beyond ugly and make it even uglier?
Corvette Grand Sport - I think most of us knew this was on the table but it really is a nice surprise. An affordable, attainable sports car that just about anyone can get their hands on. No artificial 'exclusivity' or limits: you want one and have the cash, you can have one.

Citroen C4 Cactus Rip Curl - I love the French and their cars; is this the new VW bus for the 21st century though? Tell me this wouldn't fit in the southern US in places like CA or FL.
Citroen E-Mehari EV - This one looks a little too much like a NEV. Very niche but very French Riviera.

Citroen SpaceTourer - The French need vans to deliver their cheese and baguettes.
DS3 - Citroen's Accura/Lexus/Infinity. I've been in a few of these and I really like them. Cool, different, and somewhat avant-garde. Wish we could get them on this side of the world.
DMC Lamborghini Huracan - I'll take a little trash with my Euro please.
FAB MB AMG GTS/S-Class Coupe - Beauty and taste is in the eye of the beholder. Not trashy, their ok.

FAB McLaren 650S - Separate because this does move into the trashy side of town.

Ferrari GTC4 Lusso - I loved the FF and this takes the name of one of Ferrari's most beautiful and tasteful designs/nameplates of all time and does it justice. I'm odd, I really love these kinds of specialty cars: a Ferrari wagon, AWESOME!
Ferrari T HS Package - Sort of an AMG/M type of deal? Not sure but great, I guess?
Fiat 500S - Are we all tired of the 500 yet?
Fiat Tipo Hatch/Estate - Which one of these Fiat's will be the new Dart?
Fiat 124 Spider - Read the first bullet.
Ford Fiesta ST200 - Much like Chevrolet, Ford has given the people what they asked for: a small affordable fun little car that can almost always put a smile on your face.
Ford Kuga - I do wonder if this would sell well in NA?
Ford Vignale - Does this not tread on Lincoln territory?
Hamann BMW X6 M50d - Another in a long list of upper end aftermarket tuners and manufacturers.

Hyundai iONIQ - I'm curious as to why and if the separation within brands will be succesful moving forward or will it just cause more confusion for customers?
Jaguar F-Type SVR - You can add as much power as you want and it will not solve the F-Types main and biggest problem, it's weight! And now, have they taken one of the most beautiful cars and butchered it?
Jeep Grand Cherokee SRT Night - Just a question, not judging or answering but: what's more offensive, The Washington Redskins use of Native NA imagery or the name Cherokee being used on a Chrysler product, because it's a Chrysler product? Just asking.
Kahn Vengeance - They should hook up with VLF Motors.

Kia Niro - I think it looks good, better than the Prius. I hope it does well for Kia.

Kia Optima PHEV - I hate the idea of plugging a car in, I like electric cars. I just hate the bother of having to plug them in.
Kia Optima Wagon - Cool and I'll bet we will never see it here in NA.
Koenigsegg Agera Final - I had to spell correct the name 3 times before I got it right. Has the Agera become the New Pagani Zonda? Great car that just can't die.
Koenigsegg Regera - Now this is new and exciting and my vote for best in show. Engineering and technically speaking, this car is head an shoulders above the Chiron.

Lamborghini Huracan Avio - Great, a special edition, one of thousands to come.
Lamborghini Centenario LP770-4 - I think it's ugly and a real disappointment. It's an Aventador with a body kit and some engine work. I think Ferruccio would be angered that they didn't really celebrate his 100th birthday with something truly special.
Larte MB V-Class - Vans are making a comeback, I hope the gaudy murals on the sides and fur carpeting throughout and water beds do as well.
Lexus L500h Hybrid - Some life into a brand that induces narcolepsy
Lotus Evora sport 410 - It's not the HP bump that's the story, it's Lotus doing what Lotus does, shedding weight. .
Lotus Elise Cup 250 - This car seriously needs a replacement.
Mansory(All Of Them!) 'Man I'm Sorry' as I call them. How the hell do they stay in business?
Maserati Levante - We've waited a long time for this and now it's here, meh. It's not as dramatic or pretty as I though it would be, have to see it in person.
McLaren(the big ones) - What does come after the P1? Is it me or did the P1 seem to come and go so quickly? McLaren can't use it now as production is over and we're already looking for the next big thing.

McLaren 570GT - This is where some of the new excitement is going to happen, on the lower end. I'd still rather have a 570 over the 650 any day.
MB C AMG Cab/Coupe - Too me there is just something off about the 2 door versions in the MB lineup.
MB Maybach S600 Guard - For dictators around the world, oh, and the Chinese.
Morgan EV3 - I still dislike what they did to Charles but this little thing is cool.
Morgan 4/4 80th Anniversary - Wow, hit the nail on the head for 'Old Skool'. That blue color is beautiful as well.
MTM Audi S8 Talladega R - A German Tuner Muscle car?
MTM VW T6 Diesel Hybrid - I know they're not transporting the cheese and baguettes the French do. What would the Germans be delivering?
MTM VW Amarok V8 - Competition for the Ford Raptor? Interesting.
Nanoflowcell Quantino EV - I have no idea how they get their electricity but at least it's a different approach and interesting. Not only, how does it work, I just want to know if it works?
Nissan Leaf - I hope at least it's better than gen 1.
Opel Ampera-e - You mean the Chevy Bolt.
Opel Mokka X - Does it matter to anyone that this is also a Chevy and a Buick?
Pagani Huayra BC - I love it!
Peugeot 2008 - Seriously America, you would like French cars.
Porsche 718 Boxster - Maybe over any other model, I really like the Boxster.
Porsche 911R - You can't have one, Nein!
Project Kahn Jeep Black Hawk - I guess Jeep after market parts and kits are a rare or even new thing in Europe.

Renault Megane SportTourer/Scenic MPV - I wonder what would happen if Renault was set free from the Nissan partnership/marriage?
Rimac Concept One - Yes, it may be the only one, ever.
Rolls Royce Black Badge Wraith/Ghost - Murder out your Roller, if you please Sir.
Seat Ateca - We don't get Seat here so we don't care.
Seat(the brand) - it would be great if VW would re-badge some of their models here so we could get them. I know they're the same as VW's but they're not the same.
Smart Brabus - Why does Smart even exist anymore?
Spyker C8 Preliator - This is one of the big WTF moments and real disappointments. Spyker was a great company with such cool products, back in the day. It's a new day and I need something new, totally new from them.
SsangYong XLV - Interesting, would like to see it in person.
Superleggera Disco Volante Spyder - I like this, I hope they produce it.

Suzuki SX4 S-Cross - What is Suzuki's global market share now.

TechArt Porsches - They do good work.
Tata Tiago - This company can do so much better.

TopCar MB GLE Coupe - A little more Euro trash.
Toyota C-HR - I tested the new 2016 Rav4 and to be honest, it was terrible. I hope this will be better but I'm not confident.

Toyota ProAce - I think they share this with Renault or Peugeot.

Volvo(the New Volvo) Is there a lemon in the bunch? It's great to see them rise again.
VW Caddy TGI - Who cares.
VW Phideon - The Phaeton we aren't getting? I'm not sure why this car exists and for who.

VW UP - Not sure Americans would buy this but I know Canadians would.
I might do the concept cars in a separate post, this one was long so not sure. It bodes well for the Geneva Motor Show and the industry at large but I hope you read all of it. Thanks for stopping by.