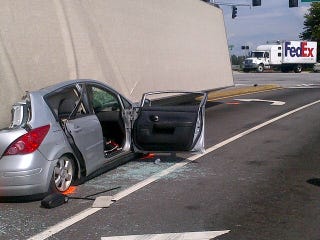 The driver of the Nissan Versa was just waiting to turn left when an 18-wheeler came around a notoriously tight corner, lost its balance, and found its way into her lane. Miraculously, even though there was now a truck where her head was supposed to be, she remained alive and conscious and will be treated for only minor injuries. It is not yet confirmed how many lottery tickets she will buy once she is released from the hospital.
http://www.ajc.com/news/news/brea…
As the AJC writes,
A driver was temporarily trapped this afternoon in Gwinnett County when part of a tractor-trailer landed on top of her car, slicing through the roof.

The crash happened on Lawrenceville Suwanee Road near the intersection with Horizon Drive, Suwanee police Capt. Cass Mooney told The Atlanta Journal-Constitution. Gwinnett County firefighters were called in to extricate the woman, whose name was not released, Mooney said.

"The woman was conscious, alert and breathing and was able to crawl partially out of the vehicle," Capt. Tommy Rutledge with the fire department said in an emailed statement.

The woman was transported to Gwinnett Medical Center in stable condition, according to police. The driver of the tractor-trailer was not injured.

Investigators believe the trailer became separated from the truck and rolled over the median, crushing the car in the opposite lane, Rutledge said. The Georgia State Patrol is investigating, he said.

Lawrenceville Suwanee Road was blocked while wreckers removed the trailer and debris.
This actually occurred half a mile from my house, so I'll fill you in with the details they left out:
The crash happened in the early afternoon, and all northbound lanes were still closed until at least 10:00 PM. Cleanup took no less than six hours, and this isn't just an out-of-the-way intersection where they can take their time. This was probably due to the fact that just down the road, another truck rolled over and spilled screws all over the freeway. That's probably more urgent.
But anyway, yeah. Scary stuff.