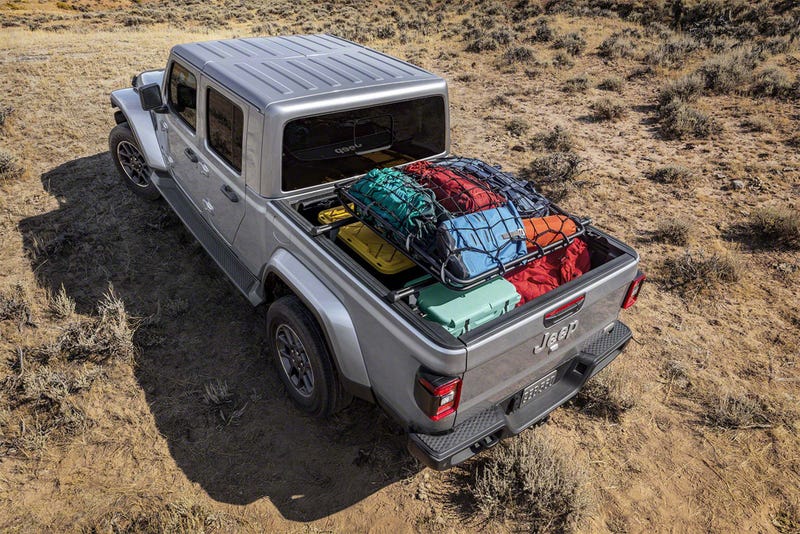 per the live reveal (via channels that livestreamed it)
7650 lbs towing
1600 lbs payload
Rubicon has "DANA 44 front and rear with 4.10 gears" no word on if they are different than the standard rubi axles

Fox shocks
Off road calibration unique to the gladiator that allows front sway bar unlock with rear axle locked at the same time (no word on if you need to be in 4 wheel drive)
removable bluetooth noise polluter (sigh)
it looks CRAZY long
Pretty shallow bed, maybe 24-30 inches deep
Pretty much nothing you didn't already get from David's FP piece.
UPDATE: I'm pretty sure there is no disconnecting rear sway bar on these. all the material simply references a front. I wonder if they couldn't do it and keep their payload rating or something. CONFIRMED. Only a front disconnect, not front and rear.
it comes with 4 top options
Body colored 3 piece hardtop
Black 3 piece hardtop
Sunrider softop
"premium" sunrider softtop
Comes in 4 trims (with translations)
Sport - Minimum monthly payment
Sport S - Minimum monthly plus few things all cars in 2020 should have at any price
Overland - I don't really want to go "off the road" but I like the truck.
Rubicon - Comes with all the important off road hardware I'll eventually and slowly replace with aftermarket.
Yes, you can still get the gladiator with a 6 speed manual.
Bed is steel, tailgate is aluminum
standard skids include oil sump, transmission and gas tank. Rubi package adds an additional unspecified ski and rock rails for the mid body and rear.
Suspension is 5 link in back and 4 link with panhard up front.
All coil
Dimensions (including references to a Tacoma double cab TRD off road 5 foot bed and an F150 XLT 4x4 Double cab 5.5 foot bed as references)
Length - 218 inches (Tacoma double cab short bed 212, f150 double cab short bed 231)
Width - 73.8 (Tacoma DCSB 75.2, f150 79.9)
Height (w/hardtop) - 73.1 (Tacoma DCSB 70.6, F150 4x4 shortbed 77.2)
Off road dimensions. Sport/overland
Approach - 40.8/43.4 (Tacoma 32, F150 25.5)
Departure - 25/26 (Tacoma 21, F150 26
Breakover - 18.4/20.3 (Tacoma 23.5, F150 21)
Ground Clearance - 10/11.1 (Tacoma 9.4, F150 9.4)
Weight Sport/overland/rubicon auto (also compared to Tacoma DCSB off road)
Curb - 4672/4742/5072 (Tacoma 4425)