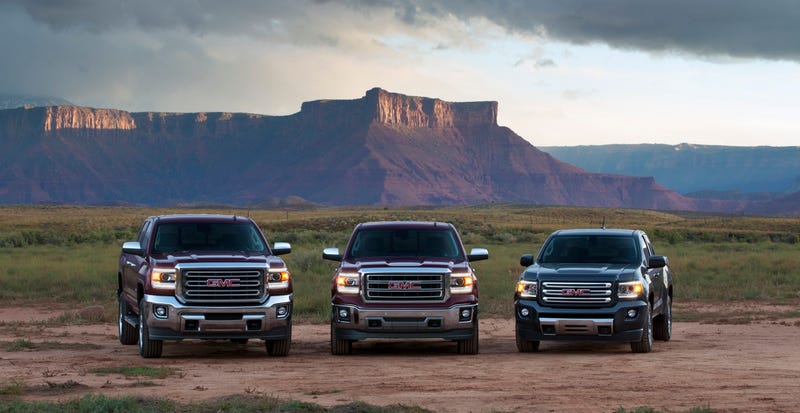 I've said countless times, as have others, GM expected to take a hit in their full size truck market share, and that's ok.
A number of GM execs/engineers have made it clear on a number of occasions that being #1 in terms of sales isn't a [top] priority to them any more. It is for VWAG, they are almost copying GM of the 90's (too many brands, cost cutting, poor quality) and like '90's GM' they are already seeing the effects - it doesn't work.
GM wants profits. More profits obviously means more money in the bank, that sweet sweet money-green means more R&D spending (better products, better quality, etc.), more limited run models like the Z/28, more reason to revive Pontiac!!
When General Motors rolled out its new line of redesigned trucks last summer, a barrage of criticism surrounded the introduction: too expensive, too evolutionary, too blah. But now, almost a year later, GM is reporting higher than expected profits from higher transaction prices for both the Chevrolet Silverado and GMC Sierra, helping offset the hurt from ignition switch recalls.

Almost three months ago, Barclays Capital analyst Brian Johnson had called the truck rollout "arguably the least successful large pickup launch over the last 15 years," but in a report last month, Johnson admitted "General Motors may have made the right call to go for price over share." Automotive News reports that GM has experienced a $5,400 spike in transaction prices, which goes to show that GM's plan may be working after all despite bumps along the way.


Much hype has been made about Ford's use of aluminum for its soon-to-be-introduced series of trucks, but the trucks from General Motors already weighed a few hundred pounds less than Ford's. Additionally, new gas mileage regulations aren't in full effect until 2019, which meant GM wasn't in a rush to meet it just yet. This meant GM could maintain lower costs while still commanding premium prices until it is time to introduce the next generation of truck, possibly in 2019. According to Automotive News, GM plans to maintain pricing by adding innovation, like an upcoming multi-gear transmission and possibly a light-duty diesel.

Of course, this has all been at the expense of market share. Henry Brown, owner Henry Brown Buick-GMC in Gilbert, AZ, originally was a big critic of General Motors' strategy that didn't focus on market share, but he says his mind has changed since sales staff has been making sales (and profit) by touting the premium features available on the Sierra. "You can't sell a cheap one. Maybe [GM] knew the market better than we did," says Brown.

J.D. Power and Associates shows that sales have spiked for trucks over $40,000, with General Motors commanding a 37.7 percent share, up 11 percent from a year ago. However, Silverado and Sierra sales the first quarter of 2014 totaled 33.7 percent of the full-sized pickup segment, which was a drop from 36 percent from the same period a year ago when GM was phasing out its old-gen pickups.

Even with the market share loss, General Motors shows strong profits because it has resisted heavy incentives to push sales. However, not everyone is convinced—Steve Hurley of Stingray Chevrolet in Plant City, FL believes that "Chevrolet dealers aren't satisfied with what's happened with Silverado market share. We're all looking at what we can do to get that market share back."
Not only is GM ok with losing some full-size truck market share to Ram and Ford, but when the Canyon-Colorado come out later this year, they are going to be snagging conquest buyers from everyone across the board including the otherwise potential Silverado-Sierra customers. The mid-sizers will still have a nice profit margin of their own, like their big brothers, it's still profit in GM's pocket. GM full-size market share will take a hit again, but it is still a win for General Motors.
Oh, but then Ford will command an even larger gap with the F150 sales over that of the Silverado. So what!? The only effect is the intolerable Ford fan boys will chirp it from the roof tops. Not all Ford fan boys, just the intolerable ones (read: all the Ford fan boys).
GM is looking out for the company as whole to be healthy, not just the sales of a particular model.