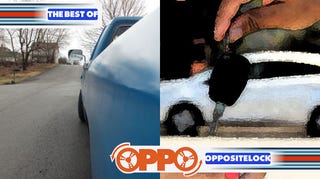 Assembled here are the best Oppositelock posts from Friday through Sunday. Today we've got the 1989 Dodge D250, your car as an advertisement, an AMG powered 300SL, the busiest highway in North America and more.
1989 Dodge D250: The Unofficial Review of Dubious Credibility - wontacceptthis
Behold, God's gift to 'Murica. Long before Chrysler debuted the groundbreaking 1994 Dodge Ram, they were producing this industrial device, the D/W series pickup. Purchased by a 16 year old me, this marvel of modern engineering has traveled 40,000 of its low, low, lowwwww 183,000 miles with myself at the helm. This same basic platform remained in production from 1972 to 1993, with only one mild mid-cycle redesign, and several mild refreshes. This particular example is a 1989 D250 model, indicating a two-wheel drive, three-quarter ton truck. Read more…
---
Your car is the ad impression auto dealers most prefer - Juan Barnett
Between Internet research and my personal experience I've concluded that many, if not all humans have a negative view towards automotive dealers. Given that solid data point I'm perplexed by a very interesting question: If we have such a negative view of the retail buying process, why do our cars reflect just the opposite? Read more…
---
NPoCP: AMG V8 converted 300 SL Gullwing Coupe - FreddsterExprs
If you always wanted to have one of the world's most recognizable cars but couldn't stand that ancient 1950s engine and transmission, then you should feel very lucky: RM Auctions is offering a 1954 Mercedes 300 SL that was equipped in house by AMG special vehicles with the firepower of a R129 Mercedes SL 60 AMG. Read more…
---
The Busiest Highway in North America - Dunnik the Transporter
It's not in California. It's the King's Highway 401 in Ontario, specifically the part that travels through Toronto. Almost half a million vehicles per day pass through the busiest part of the route along sixteen lanes of traffic.
---
Not your usual flying Audi... - AJTaylor
The 1990s were an amazing time for touring cars with major manufacturers across the globe developing tin top warriors. When Audi was looking to promote the new for '95 A4, world domination of the Super Touring category was their goal. Something they would massively overachieve on. Read more…
---
The C4 Corvette Grand Sport is basically an Elise - JayhawkJake
I had an interesting thought: if I wanted an Elise, but couldn't afford one, what sort of car would I want? The obvious answer is MR2, but that's too easy. What if I single out some aspects of the car that I find appealing? Maybe I could find something similar that you wouldn't think of. Well, I did. And the conclusion I came to is the C4 Grand Sport. Read more…
---
A Brief History of the 747 - Skipping Ahead to the Final Chapter - NotInDetroit
The Boeing 747 will probably be remembered as one of the most important and revolutionary airliner types yet flown. As the first widely adopted widebody airliner, it heralded what was at the time a new standard in comfort and efficiency. Since then, technology and airline demands shifted towards twin-engine widebody types such as the Airbus A330 and Boeing own 777, leaving many wondering if the 747 has seen its last hurrah. Boeing isn't done with the type yet, and the 747-400 still sees wide use with the 747-8 still being assembled in Boeing's great production halls - though at a reduced pace. Read more…
---
When a Spitfire is not a Spitfire (and certainly not British) - NotInDetroit
Just like the Cobra kits from Superformance, the classic fighter planes from WWII can be had in built-it-yourself form. Mostly covering the P-51D Mustang - some would say ad-nauseum - some even venture to cover other subject matter like the P-40. and F4U Corsair. The medium used can be diverse as well, from wood and fabric lightweights powered by Volkswagon engines to aluminum sheet metal like the "real thing" to fiberglass thoroughbreds powered by V12 boat racing engines. Rarely, if ever, do these kits exceed being 2/3s the size of the genuine article. Read more…
---
Are McLaren Really Getting It Right? - Jonny Edge
This morning I settled down with a nice cold glass of orange juice to watch the new Chris Harris On Cars video. Fourteen and a half minutes later I found myself feeling a little bit more reflective than I anticipated. I was expecting to feel closer to McLaren and to the new 650S, and yet now I found myself questioning both brand and car. Dominating my thoughts was the question; are McLaren really getting it right? Read more…
---
Why I Love the Mk5 Volkswagen Jetta, and You Should Too - willkinton247
The Volkswagen Jetta gets a lot of hate around here, with phrases like "Beigekrieg" and "your ex-girlfriend's car" getting thrown around quite a bit. People call it unreliable and underpowered, boring and low quality. Sure, most of it is directed at the Mk6 Jetta, but there is a lot of spill over into previous generations. After owning and daily driving a 2010 Jetta Limited for about a year, I think this car is the most underrated car VW has ever made, and that the Mk5 Jetta is worthy of your affection. Read more…
---
A Rarely Seen And Oddly Styled Bond Equipe On Ebay - TheDailyTurismo
Sharp Commercials LTD started automotive production by building something called the Bond Minicar in 1949. The Minicar was a 3-wheeled deathtrap that likely served as inspiration for the Reliant Robin and had a unique single cylinder two-stroke engine that could be fired backwards for reversing the vehicle. The Minicar 3-wheeler was discontinued in 1966 after Sharp's Bond Equipe 4-wheel car sales took off. Bond/Sharp only built 5000 of the Equipe over a seven year span and this is the only one I've ever seen. Read more…
---
So Just How Do You Define a "Supercar"? - EssExTee
Lately there's been lots of discussion about the boundary between supercars and hypercars, much of which has been centered around the Koenigsegg One:1. Let us not forget that there is another similar boundary, though: the distinction between sportscars and supercars. Here are a few cars that skirt that line, and my opinions on how to classify them. Read more…
---
Hey! You! Turn Your Damn Fog Lights Off! - Blake Noble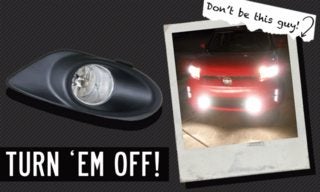 In Christianity, there are only seven deadly sins you can commit: wrath, lust, greed, sloth, gluttony, envy and pride. In the Sacred Religion of Motoring however, the list of capital vices you can succumb to while behind the wheel is seemingly endless: chatting on a cell phone and going any amount under or over the posted speed limit are among the many evils. One evil on the list brightly stands out among the others however, almost blindingly… driving with your fog lights on when fog is suspiciously absent. Read more…
---
WRC Portugal: Day 2 standings and a boycott (SS8-SS13) - FreddsterExprs
Day 2 of the Vodafone Rally Portugal promised close competition. The day before narrowed down the podium contenders down to 5 drivers: Ogier as the remaining Volkswagen, WRC veteran Mikko Hirvonen and surprisingly returning driver Ott Tänak for Ford, Mads Östberg in his Citroen DS3 and newly third Hyundai team driver Dani Sordo. Read more…
Cars & Coffee
It was a busy weekend for car meets as everyone brings their machines out of hibernation:
Liquid_popcorn stopped by Katie's C&C, as did Vorspringing and Jagvar got some models to pose with the cars. _Mécanicien showed us what a French C&C event is like with Voitures & café in Pau. Asphalt attended C&C in New Canaan (Part 2, 3, 4, 5, video) as did 190e30, offroadkarter and JGrabowMSt. Itchy went to C&C in Lafayette and shared photos his friends took (part 3, 4, 5). Chiefstinky was also in attendance in Lafayette. Twinturbobmw took photos at C&C in Portland where several Oppositelockers got together. Hunt Valley Horsepower was also well attended - hike shared his photos, Motorsport Jedi posted pictures and video. Cebu visited C&C NC. Nosek took in the cars at Scottsdale C&C. Jonee stopped by the Southwest Unique Little Car Show. Daender went to the ProAuto Car Show.
The Best of the Rest
TokyoAquaBayLine did a nice sketch of a Ferrari 250GT Lusso. Jobjoris got his 2002 Touring back from the paint shop. Gabdere took one of his last drives in his GTI. Dinger's Ghost installed his new wheels. Dunnik the Transporter found Amelia Earhart's plane. Harris Lue found a MRtoowide. Santiago Iglesias rallycrossed his FR-S. SnapUndersteer auto crossed his M3. Higu went out for a cruise. CrzRsn detailed his engine bay. Roflcopter had a setback on his lolvo. Upshift changed his interior over to leather. Vorspringing competed in his first autocross.
As always, If I've missed something and you would like me to include it, let me know.
Discussions
There were several posts that asked questions and sparked some good conversation between Friday and Sunday. Take a peek and chime in on some of those listed below:
Just the #tips
These posts have already been shared with Jalopnik directly but deserve to be mentioned again because they were first posted on Oppositelock:
Want to participate on Oppositelock? Check out the handbook for posting on OppositeLock as well the Oppo tools to help you get started.