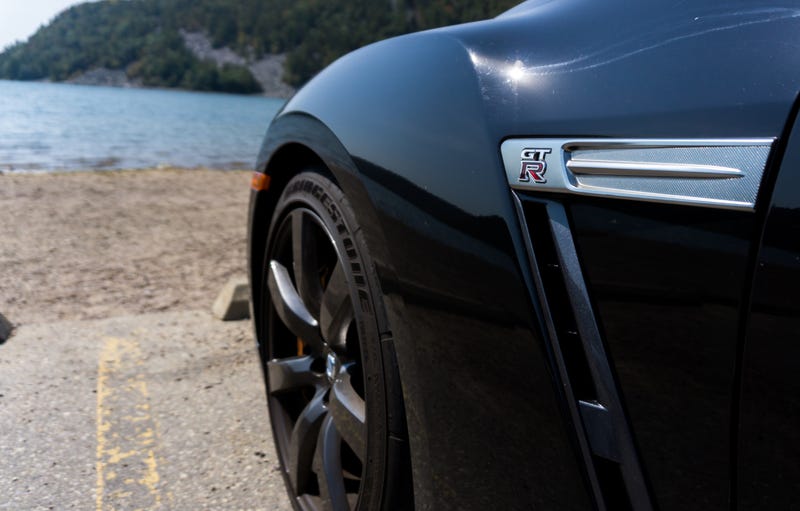 Last month, I had a few days to kill between a business trip and an out-of-town wedding in Eau Claire, WI, so I figured I'd see what Turo had to offer. Three promising results appeared in the forms of a 2005 Corvette, a 2011 M3, and a 2010 GT-R. Remarkably, the GT-R was the lowest priced of the group, which made my decision very easy.
I booked the car for two days to the tune of $110/day with an allowance of 200 miles per day (and $0.75/mile extra). Most of the online commentary I could find around good driving roads in the area mentioned Highways 60 and 35, so I tried to work in as much of those as I could. I'd be going a little over my mileage allowance with a few other short drives around town afterwards, but I figured it'd be worth it.
Part 1: Eau Claire to Devil's Lake State Park
The start of the trip was mostly highway, but that wasn't necessarily a bad thing. It gave me well over an hour to get acquainted with the car, feel out the different settings, and mess with the transmission a bit.
I figured out right away that this car was a lot more "R" than it was "GT". Sure, the interior was comfortable and stuffed with features, but no matter the suspension setting, the ride was stiff and the NVH was substantial, particularly from the 140 treadwear Bridgestone RE070R tires. The roads I encountered on this trip were neither demanding nor smooth, so I kept the suspension set to "Comfort" most of the time, which leaves the GT-R about as stiff as a stock FR-S/BRZ/GT86. The difference between it and the other modes was noticeable, but very small.
On a side note: many thanks to the owner for sticking with those short-lived, high performance tires on something being rented out. The noise from them wasn't exactly pleasant, but they sure do help keep the performance magic of this whole package intact.
As for that performance magic... oh boy. I don't think I've ever been as tempted to misbehave in a vehicle as much I have this one. It's mostly due to how different the car behaves when you're on it and when you're not.
It lazes around town, bored, and plodding along at 6th gear as low as 35-40 mph. It hates reversing, stopping, and taking off slowly. When you want some brisk acceleration, the transmission's automatic mode downshifts one gear at a time, pausing for a long moment in each to make sure you actually want to continue accelerating before begrudgingly moving down to the next.
Once you find an opportunity to actually make use of what it's capable of, which is... a lot, it roars to life and sharpens up immensely. Bump the transmission mode toggle up into "R", engage the manual shifts, and start forcing it to work. It'll snap through the gears quickly and reward you for keeping those turbos active with a nice big shove at any speed. This car is practically begging to be driven in anger at all times. It took damn near all of my willpower to not be a total ass behind the wheel.
I eventually exited the highway and made my way into Devil's Lake State Park, which was a treat to visit. The grounds were well-kept and featured a pleasant variety of flora. The lake was big, calm, and free of motorized watercraft, which immediately had me wanting to go track down the nearest kayak. I took some time to stop and walk around so I could enjoy the sights and take a few more photos before hopping back in the car to get to the roads I drove down here for. I'll have to remember this park if I'm ever in town again.

Part 2: Highway 60 to Prarie du Chien
Having driven in the Ozarks many times, I immediately felt right at home here. Highway 60 was far from challenging, but it had enough hills and curves to keep me entertained. Additionally, the scenery more than made up for any shortfalls in the road itself. I love my home state and all, but this had it easily beat. I took advantage of a few boat ramp areas to stop, enjoy the sights, munch on a snack, and of course, take a few more pictures.
I eventually arrived in Prarie du Chien and fueled up. The GT-R's massive 19.5 gal. tank would have likely handled the whole trip, but I figured it'd be better to play it safe. A few gas station employees and customers chatted with me briefly about the car while I waited. It's not nearly as flashy as most of its supercar brethren, but it sure seems to be just as well-known.
My last stop in this area was St. Feriole Island Park, which was pretty much what the name implied: a park on an island. There wasn't much to do there, but again, it made for a nice place to stop and wander around.
Part 3: Highway 35 to Alma
Highway 35 wound up being a lot like 60. It followed the river and featured many curves and altitude changes, but still came nowhere close to letting the GT-R really stretch its legs unless I had a car or three ahead of me needing to get passed. Even then, it was just a few clicks of the left paddle, a brief mash on the go-fast pedal, and I was up to the front of the line in no time at all.
There unfortunately isn't much else to add about this portion of the trip. The road added some large, sheer cliffs on the inland side of the road and some train tracks, but it was by and large just more moderately interesting road and good scenery. Add in a few small towns and that's about it.
Part 4: Returning to Eau Claire
As the trip drew to a close, I felt a bit conflicted on the GT-R.
It is, without a doubt, a significant feat of automotive engineering, able to perform like few other cars can with little effort or driver talent required. The speeds are blistering, the grip is astronomical, and it hides its weight better than anything else I've ever driven. Even the brakes found an opportunity to show off when I found my self bearing down on a sizable hawk feasting on some roadkill at the exit of a sharp-ish corner. Without a doubt, it lives up to its "Godzilla" moniker.
And yet, while I originally considered renting the car for 3 days, I was kind of glad that I didn't. I no longer found myself lusting after this car by the time I was done. I struggled to think of a day-to-day situation, even with some of the moderately interesting roads I frequent, where I could see myself genuinely having fun with this car. There just aren't enough good opportunities to prod it out of its half-asleep cruising behavior. In the few moments you can do so, you're still having to settle back down right away before you risk trouble with the law or worse.
Don't get me wrong though, I'm extremely glad that I had a chance to experience what this car had to offer. It's a whole league apart from everything else I've driven so far. Maybe some easy access to a track or genuinely challenging canyon/mountain roads could change my perspective, but in every other conceivable case, I struggle to find the point. Some people might enjoy the attention it garners or even just knowing the immense capabilities that they have on tap at any given moment enough to overlook the somewhat harsh ride and poor around-town manners, but I'm just not one of them.
In closing: being able to drive this car was absolutely worth the rental price, and I'd recommend it without hesitation to anyone who has a similar opportunity. However, that's about where it stops for me. Even if I had the means, I simply can't see myself owning one.