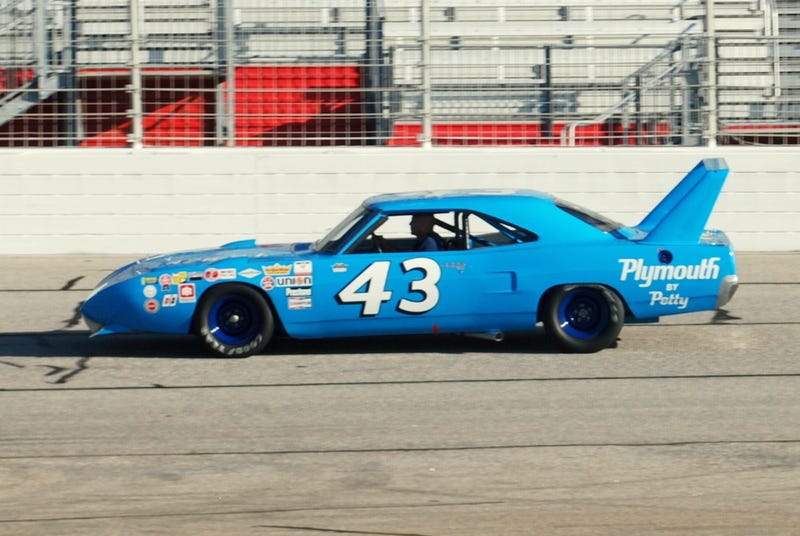 I got to ride in Richard Petty's Superbird on the Atlanta Motor Speedway a few days ago. And, I have video to prove it.

This past weekend was the 45th Anniversary Aero Warriors meet in Alabama, dedicated to the Dodge Charger Daytonas, Plymouth Superbirds, and the cars they raced against. The day preceding the festivities, a few of the event's attendees were invited to the Atlanta Motor Speedway to run their wings a little faster than one might advise on the public roadways. And, it would just be cool since this track is one that these cars raced at in 1970. Both Atlanta races in 1970 were won by wings. The second was won by Petty in his Superbird.

I was there taking photos and hoping to bum a ride with someone when I met Todd Werner. He owns one of Richard Petty's Superbirds from back in the day. After we conversed for a while, he noted that his passenger side floor board had not been spoken for yet. Was I interested in going for a ride?
I had my still camera as well as a GoPro with me but didn't have a whole lot of time to prepare. So I improvised. I won't describe the video any more than this: It's like a Vin Diesel movie. It's got no script and no acting but it does have a ton of fast cars and a lot of noise.

Meanwhile, I have a book coming out on the winged cars early next year. Stay tuned for updates, as they say.

Follow me on Twitter: @stevelehto
Hear my podcast on iTunes: Lehto's Law
Steve Lehto has been practicing law for 24 years, almost exclusively in consumer protection and Michigan lemon law. He wrote The Lemon Law Bible and Chrysler's Turbine Car: The Rise and Fall of Detroit's Coolest Creation.
This website may supply general information about the law but it is for informational purposes only. This does not create an attorney-client relationship and is not meant to constitute legal advice, so the good news is we're not billing you by the hour for reading this. The bad news is that you shouldn't act upon any of the information without consulting a qualified professional attorney who will, probably, bill you by the hour.
(That is not me driving in the top photo. I took that pic after I got out.)