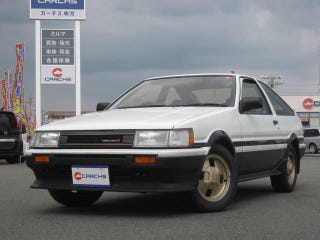 Finding an AE86 that hasn't been modified into a nearly unrecognizable state is difficult, especially when looking for one in Japan. Hell, finding unmodified used cars in Japan in general is nearly impossible. That makes this car so special. It's an 84 Corolla Levin hatchback, and it's the GT-Apex model (AKA the one you want). This is easily the cleanest AE86 I have ever seen. It's practically like new. It only has 43,130 km on the clock, and it shows, especially inside.
LOOK AT HOW CLEAN! LOOK AT THAT DIGITAL DASH!
Like the description says, it's now or never, which I think is Japanese for THIS THING IS EXPENSIVE. How expensive? $22,320. I'll let that sink in for a minute. It's more than a lot, it's a huge amount of money for a 30 year old car. But still, it's not much at all for being able to drive around in what may be the world's only remaining stock AE86.
http://www.goo-net-exchange.com/usedcars/TOYOT…
I'll leave you with one last shot of that digital dash, because I mean seriously, shit's awesome.