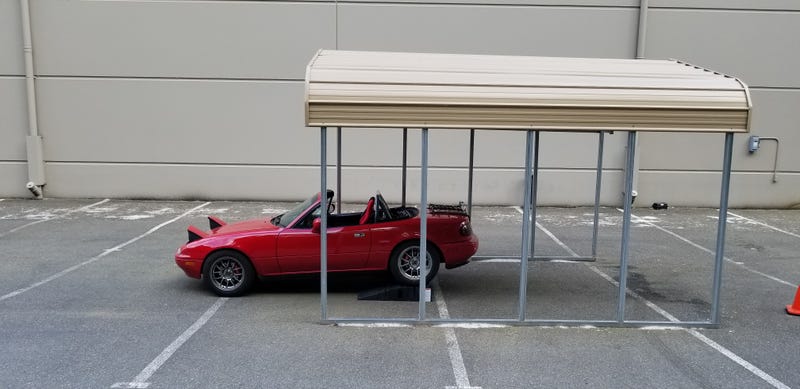 Good news is I had someone bust my stuck nut. Bad news is... I may have put my rear sway bar on upside down.
So last week when removing endlinks one of them absolutely refused to budge. You guys gave me tons of great ideas for removal, and I was on my way to a parking lot to begin attempting "nut removal take two" when on a whim I decided to stop by my local race shop.
TTwenty minutes before closing, on memorial day, I drive by and ask the owner if he has time to remove a stuck bolt. I was expecting a no, but he agreed (further cementing his place in my heart as THE shop to go to for any and all needs. Took him about thirty minutes to get it off once on the lift, which made me feel a bit better about my failed attempts. In the end, after MAP gas, breaker bars, vice grips, grinders and hammers failed, he grabbed a.... Uh... Shit. I forgot the name. Socket-that-cuts-into-the-bolt-to-grip-it-thingy. Extractor! I think that's it. Anyways, the extractor was what worked in the end. This dude has gone out of his way many times to help me out, and always provided great service under more normal circumstances too. Stage Auto is the best.
So after bolt removal (at long last!) I went to my favorite wrenching spot. Can you guess why it's my favorite wrenching spot..?
Yep. Totally private, lots of space, and a massive canopy for work in any weather. Coincidentally it seems as if I can drift on dry pavement with winter tires. Huh.
Once I had tools laid out I stuck the rear bar in place and bolted the supports down, then moved on to the endlinks. Now, I'm not positive that I put the bar on backwards, but I feel like something isn't right. The car drives fine, but the endlinks are at an odd angle, using all the spacers, and there isn't much room for adjustment. Idk. I'll figure it out later.
Oh and I almost forgot. In my quest for world domination, I've been posting a lot on Google, and my Miata is now the top image for their shop. Nice. Half the places in Kirkland now prominently feature a red Miata in their most popular pictures, which I find hilarious