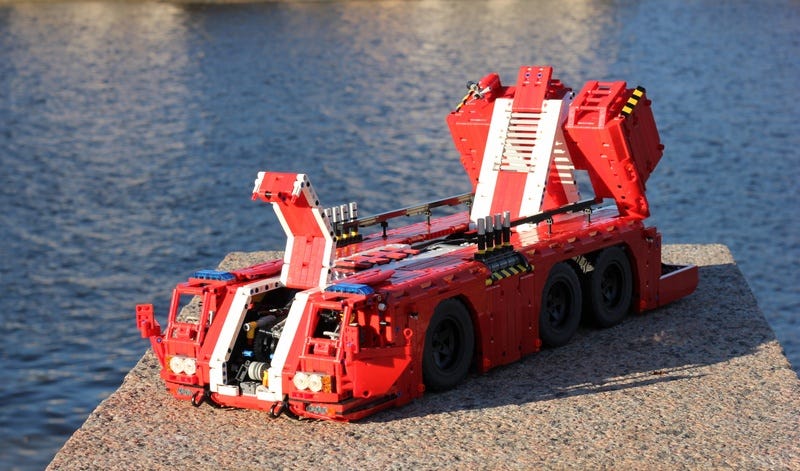 Meet this. It looks like an airport tug, but nope. It's called a "Multifunctional Aerodrome Tow Truck", a creation by Desert752, and yes, it's big. Big in size (weighing in at 4.45 kilograms and 77cm long and 23 cm wide), big in complexity, and big in time investment (it took 1 and a half months to build this model). Just take this in, from the words of the creator on his MOCpages spot:
The model has eight RC functions (seven useful + compressor) and manual controlled winches and lights (total 12 motors).

- moving (three XL-motors);

- independent front and rear steering (two servo-motors);

- lifting jacks (M-motor, eight pneumatic cylinders);

- cab lifting (M-motor, two pneumatic cylinders);

- front PPTO (M-motor);

- rear PTO (buggy-motor, slow output);

- winches (two L-motors);
Many of these functioning parts are viewable here. Talk about complex.
So how would they all add up? Well, watch this:
The truck base can be equipped with any kind of attachment in place of the towing hitch in front, like a bulldozer blade (or, if it's winter, a snow plow blade), and a boom crane can be hitched at the back. Oh, and the operator cabins raise up like the picture below, with the dozer blade attached.
The boom crane attachment is no slouch, either—it can be considered a standalone model, weighing in at 3.7 kilos, and its boom is just 5 cm shy of 100 cm.
And the crane axles fold up like MarioKart 8 wheels, which adds to the coolness.
Read more about the model and see the internal workings on MOCpages, or watch the video above.
Oh, by the way, the guy who built this model also built this model, but that's another story. It's night, and I get more page views during the day.