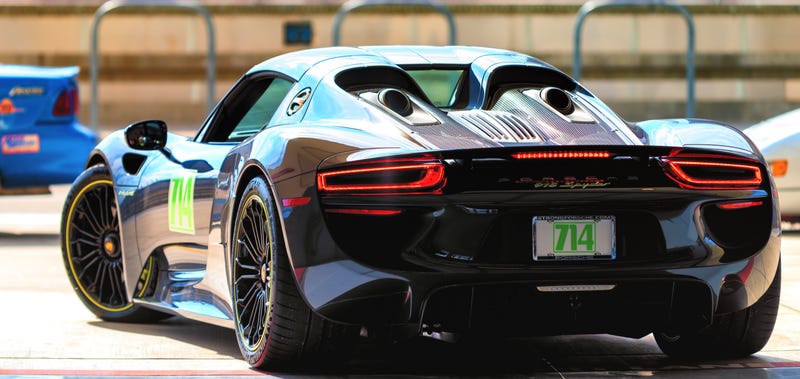 If you think going to an F1 race at the Circuit of the Americas (COTA) would be an amazing experience, I would argue that a track day at COTA is even better.
Allow me to walk you through one such experience at COTA which will explain to you why I think so.
Amateur track days at COTA showcase some of the finest machines you'll ever see doing what they do best. Every time you go to COTA for one of these track days, the cars that you see are somehow even more incredible than before.
For example, who would've thought that the first time I would ever see a Porsche 918 Spyder Hybrid would be at COTA ready to hit the track!
In case you're wondering how these pictures turned out so good, they're from my iPhone.
Of course not - I'm joking. These were taken by Jason, a fellow Jalopnik fan. As you can see he is an excellent photographer and what you are viewing is literally better than what I saw in real life. There are plenty more below - a plethora of pictures (always wanted to use that alliteration) available for your visual pleasure.
It's ok if you drool - I did too.
Driving up to the track is always fascinating because Turn 1 is visible from at least a mile away. As you get closer, you can hear the cars racing up to Turn 1 before braking hard to take that first corner - and let me tell you that beautiful noise is like music to your ears.
It gets much better as you head towards the COTA parking lots. Why?
Because you actually get to drive straight to the pit area.
That's right. With no race scheduled (let alone F1), you can drive directly to the garage/pit area and park amongst cars that your dreams are typically made of.
Like this for example…
The first car I encountered as soon as I entered the parking lot behind the garages was a brand new 2015 Ford Mustang. This was the first time for me to see the all new Mustang in person and I have to say that I liked the way it looked overall although the stock wheels are still not all that appealing.
Ford never seems to be able to create the kind of wheels that a car like this deserves - Ford, along with many other car manufacturers. But, luckily, this is a problem easily solved with the myriad aftermarket wheel options out there.
How about this BMW i8? First sighting ever and possibly the only one in Austin, Texas at the time of writing this?
Before long you find yourself roaming around cars that are worth millions of dollars (if you put them all together like the Porsche 918, a couple of Ferrari 458s, a couple of McLarens…the list just goes on and on).
Feast your eyes on these wonderful creations of mankind.
At this point if you may be thinking that this is just a millionaire's game and most of us have no choice but to just sit there and admire from afar. But that's not necessarily true. Admittedly, in order to participate in one of these track days (or weekends) it does cost a ton in terms of brakes, tires and maintenance, however, you don't need a GT3 to participate in a COTA track day.
Although most cars at COTA are typically of the very expensive variety, you can actually enjoy a COTA track day on a budget (relatively speaking of course). You can race out on the track in a Mustang or a Civic, both of which probably cost less than replacing a windshield wiper on the Porsche 918.
Take this Mustang for example..
Or this Honda Civic Si…
That being said, what is alluring about these track days at COTA is the opportunity to check out rare gems like the 918.
The 918 Spyder attracted tons and tons of attention as you can imagine. Most of the pictures of this car generally included other people doing the same. It was like a celebrity out there - everyone was all over the car.
I would venture to say that with this Corvette, the front and rear spoiler actually have a real purpose!
These C7s looks like they are fun to drive around the track which are much improved over the prior generation C6s. The difference is literally night and day.
These Lotuses are not only beautiful but right at home at COTA.
Racing is not easy physically or mentally. If being out on the track is a financial burden for you, this thought might be going through your head: "Oh God, why did I do this?? A 50 inch TV would be so much better - it's so much cheaper…and I can race cars all day long on GT5."
Each minute on the track is potentially costing you hundreds (or thousands for the 918) of dollars and gnawing at you with a sinking feeling in your stomach.
Ugh.
A worn out tire again?!?!
But it is worth it. COTA is obviously a world class racing circuit and if you had the opportunity and the means to race your car here, you wouldn't regret it.
The view of Turn 1 from pit lane is astounding! This is by far one of the coolest aspect of a COTA track day. It is really a gorgeous track and the ability to go into pit-lane and hang out in the garages is awesome.
Watch the video to see what I mean.

It is absolutely a privilege to drive on this track. COTA was purpose-built for Formula 1 and it's no joke to race your car here. The track is challenging and takes a fair amount of practice for driving at COTA to become an enjoyable experience. Here is an excellent video taken by a friend of mine out at COTA - he has quite the set up here.

Here are a few more pictures courtesy of Jason that I'll leave you with.
And so this is what a track day at COTA is like (thanks to The Driver's Edge crew for putting this on). Can't wait for the next one.
Photo Credit (lots of credit, actually): Jason Bollenbacher
More posts @ Torque Affair
Facebook: Torque Affair
Follow @TorqueAffair