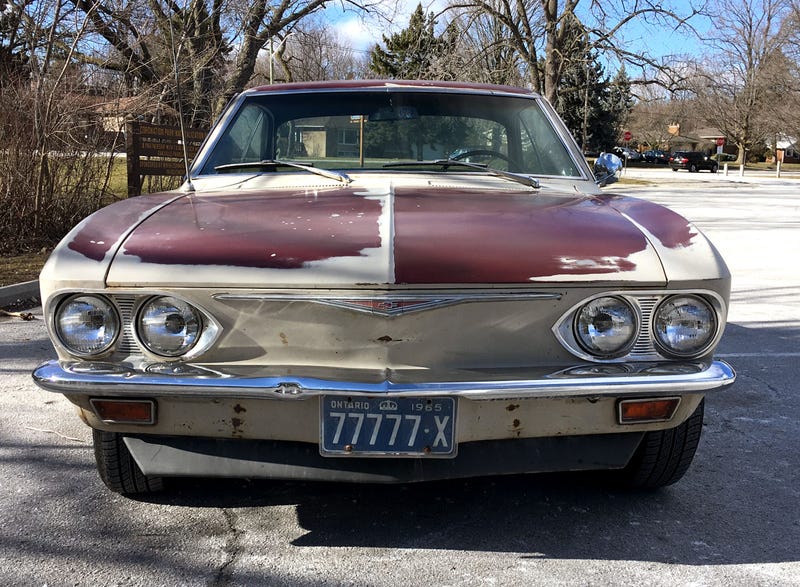 I did a thing. I sold my Corvair.

It wasn't the prettiest car - I had it 15 years and never got around to painting it. It had been shot with white primer around 1971 and this was degrading to the point where I was wearing it on my clothing if ever I brushed against the car. I sanded the hood (trunk, really) and roof back to the original Madeira Maroon until realizing that a) sanding off the entire car was going to be a stinkton of work and b) the original owner had made a bit of a mess of that paint, too.
But I loved it.
I took it to work, I took it to shows, I took it out and about and added 20,000 miles to the 40,000 it had when I got it. It gained a 4-speed and a turbo engine (that never boosted, but that doesn't matter because TURBO).
Why sell? Well, we moved. My commute doubled and dealing with 18-wheelers on busy, fast Toronto highways wasn't as much fun given 1965 safety standards. Small kids meant that it could take several years to have enough time to bring it closer to spec and instead of driving 5000 miles per year, it was lucky to see 500.

I listed it three separate times. People would call. I'd get depressed and cancel. Finally, someone showed up cash in hand and we shook on it. I've left my oil drip catchers in place, even though the new inhabitant of the garage has the engine at the other end:
It's faster, shinier, prettier, much better equipped and drives 1000 times better. It uses half the gas and I've driven it more this year than the Corvair went in the past six or seven.
But as of this moment, I have eight browser tabs open with various searches for Corvairs for sale. And it has only been six days....