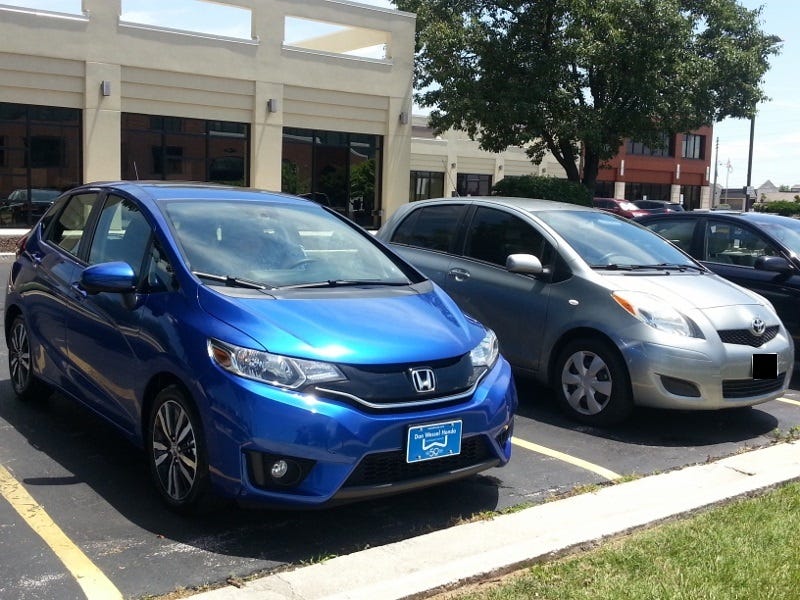 Misses Valve Gear has different tastes in vehicles than I do. Yet, we both tend to get attached to our cars.

Over the years, my wife has had three Yarises (Yaris'? Yars? Yari?) Anyway, three of whatever the multiple of "Yaris" is. She loves them. At least she did until 2012, when Toyota revamped them inside and out, giving them a conventional interior and - according to my wife - ruining them in the process.
As you might imagine, finding a clean, low mileage 2011 or older Yaris in the right color/option combination is somewhat difficult (not impossible, but definitely not too common). So, my wife finally came to terms with the fact that her next car would not be a Yaris... and after much deliberation, she decided that a Honda Fit would be a worthy replacement.
And so, after many months of looking at Fits, brochures about Fits, the Fit pages on the Honda website, and then looking at everything all over again, we finally pulled the trigger on a new 2017 Fit EX w/ CVT in Agean Blue. She would have been fine with the base LX in blue, but the dealer only had a blue Fit in EX trim... they gave us a great deal on it, so she got the next higher model. And she seems to be v-e-r-y happy about it.
Alas, the poor little silver 2011 Yaris has served us well, and almost certainly has a lot of life left in it. It will be adopted by a friend of ours, so we will be able to keep tabs on it for the foreseeable future. Farewell, old Yaris...