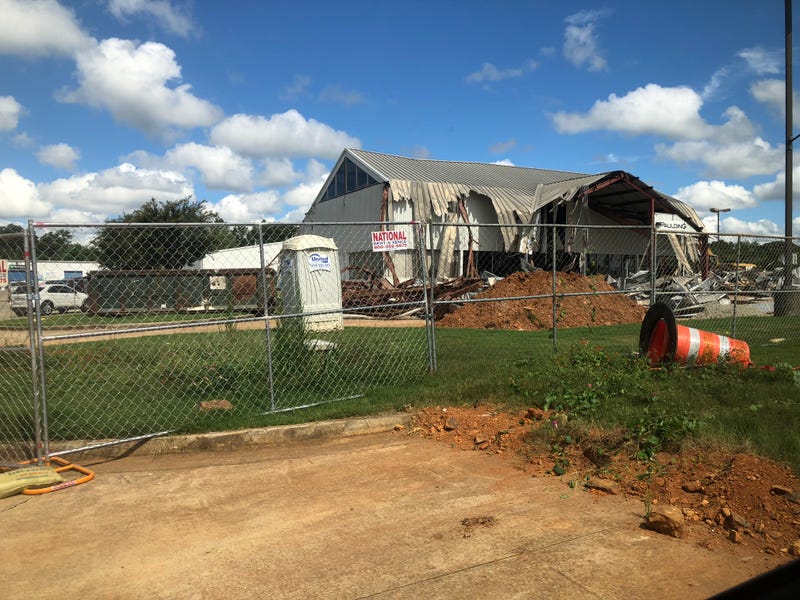 They're finally tearing down the old Paulding CDJR dealership in Dallas, GA. The new building across the street is done, resulting in the fate of this building.
(The caption editor isn't working, but this photo was taken in November 2017. This is the front porch of the old building. Please ignore the Snapchat text; this is the only photo I had of the building before demolition.)
This building was probably the coolest dealership I'd ever been to. I'd been there several times, from looking at various cars with my mom over the years to trying to get a job a couple different times. As can be seen in the window reflection, the floors were brick inside, there was vintage Dodge memorabilia all around, and the dealer itself was very small; cars probably couldn't fit in the lobby, which is why they relaxed on the porch. Cubicles for sales were right up front by the door. I haven't seen a car dealer like this one since.
Paulding CDJR, known just as Dallas Dodge until a few years ago, was simply a parking lot a mile down the road. This lot now serves as overflow for the dealer, but I remember seeing the CDJ vehicles in that lot when I was little. I'm hoping the old Paulding CDJR building was used by the Hardy's (the big Ford-GM chain neighboring Paulding CDJR) or someone else before acquisition, as 12 or so years doesn't seem like a long time for a dealership building.
Across the street, Paulding also had a little display called Jeep Mountain in c.2014-2016. It was a man-made hill where the different Wranglers were displayed to look adventurous and rugged. The Jeeps faced Highway 120, a great promotion for the dealer. This lot served as overflow parking for the dealership and it also had a gazebo.
One day, Jeep Mountain suddenly disappeared and there was brown dirt in the place of CDJR products. Sometime in 2017, an employee told me the location of Jeep Mountain was the future home of the new Paulding CDJR building, and the old building was going to be demolished. This was the end of the cool dealership building.
Fast forward to Summer 2018: the new building is done and operating, and a fence is surrounding the old building by early August. I work near the dealer, and I drove on 120 yesterday to see if the dealer was still standing, only to see the partial demolition. Heading to work today, I pulled in and took the photo above. By the time I'm home next, the former home of Paulding CDJR will probably be completely demolished. The new building is a lot bigger, more modern, and even has cars that are elevated inside, but there was a special charm about that old building.
Goodbye, old Paulding CDJR. You'll be missed.