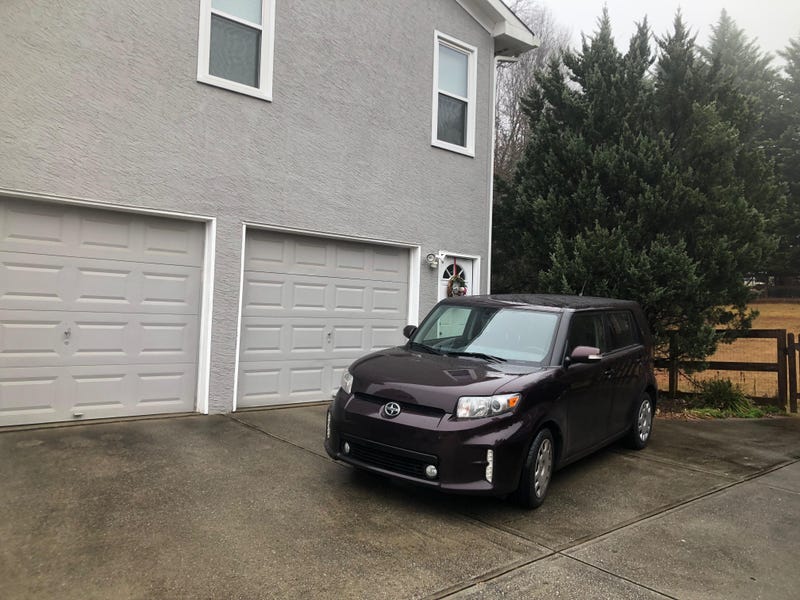 2018 ended with Ron the Scion saying goodbye. After a short 3.75 years and 48,000 miles, my dad's 2015 Scion xB was traded in yesterday at a dealership on a new vehicle. To create suspense (and because I don't have any good photos of it), I'll hold off on announcing the new vehicle. However, I'll say that it was a fantastic deal and probably my best automotive find ever. We also had it on an extended test drive since Saturday, which is why I drove Ron to the dealership instead of my dad.
Back to the xB: the xB is a brilliant concept. It's a small box with plentiful passenger space, decent cargo behind the backseat, and a convenient size to maneuver. The xB barely came with options, and it retailed for less than $20,000 with a decent amount of equipment. It also has a lot of power, maybe too much power; this is a little box with an engine that would suit a small crossover just fine. It's quirky, with center gauges, tiny visors that are high up, and interesting designs on the seats. Cars like the Soul and even older model years of the xB (such as 2008 and 2009) got a spotlight.
By 2015, the xB was showing its age. The old powertrain only got 20 MPG, a number easily achieved by modern cars, crossovers, and even minivans and trucks. Combine this number with a small tank, and fill-ups were common. My dad only commutes four days per week, yet he puts 12,000+ miles per year on whatever vehicle he drives. For my family, the xB was kind of in a weird position, literally; it was hard for my mom to get in and out of. My parents, despite being in their 50's today, have needed higher ride heights my whole life, so the xB was a huge risk in that regard. While the xB was a newer car than my RAV4, it felt older than both the RAV4 and my mom's CR-V; options such as a sunroof, push button start, and seat heaters were on the crossovers but missing in Ron. Finally, the boxy shape was kind of awkward; the xB was a good car for my dad and his personality, but I couldn't picture myself driving the xB long-term. Neither could my sister. If the Ranger or the RAV4 was away for some reason, the xB was the car I drove. Because of my wreck*, Ron's final days with my family were mostly spent with me.
Buying Ron was kind of a mistake. I was getting my license that year, and my dad needed a new vehicle for commuting. My dad didn't require features like a sunroof or heated seats for his vehicle, which meant we could search for cheaper rides for him. The turnaround time between first considering the xB and buying one was two weeks. My parents paid for Ron on the spot, which meant no car payments. We knew about the risk of the low ride height and we knew about the mediocre gas mileage, but we still went forward with the purchase. Including the cars my parents had in the 1990's, which they seemed to get rid of more frequently, their ownership of the xB is still one of the shortest experiences they've had. Meanwhile, my sister's Rogue is ten years old with over 100,000 miles, and it's the oldest, highest-mileage car they've ever owned. Even when my sister goes into the workforce, she's probably going to keep the Rogue for at least another few years.

Ron had some brake problems, which were annoying, and a tear in the floorboard (my dad is hard of stuff), but he was otherwise a good car. Unfortunately, he didn't suit my family's needs as well as the other vehicles do. I hope Ron makes some good friends at the dealership's pre-owned section, which I hope he can temporarily call "home." This new vehicle is one my parents hope to keep for a while, hopefully surpassing the Rogue in terms of ownership length.

*The RAV4 is okay! $3,100 in damage, so she isn't totaled. She should be home by Monday.