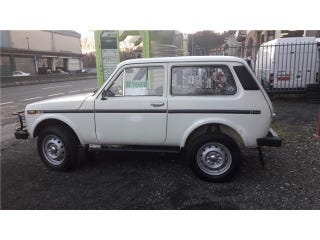 For shipping a (the one pictured above) 1992 Lada Niva 1600 with 21K kilometers from door to port (Galdakao Spain to Newark NJ) via flatbed/RoRo... $1340. Above pictured low miles, low rust Niva is listed for sale at €1950 (~$2400).
Will I follow through?
I wish I knew someone who could take a look at it... the pictures look decent, but we all know those can lie... I also doubt that its really only got 20K on it, but the ad says "super low kilometers!" so maybe it's for real... even if it's turned over 100 and is actually 120K it's looks damn clean inside...
I am most, most tempted...